Last updated Jun 15, 2011 — 1875 views


Sonos recently added Aupeo's music service to its streaming audio players. Aupeo, a Pandora-like service, offers an impressively wide range of music genres, subgenres, moods, and personalization features.

Sonos is well known for its broad family of high-quality devices capable of playing audio streamed from a variety of Internet and local sources wirelessly — and synchronously — throughout the home. Sonos's Linux-powered "ZonePlayers" represent the core of its wireless home audio entertainment architecture, as illustrated in the drawing below.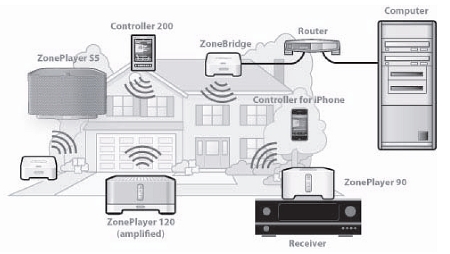 Sonos home audio entertainment architecture

Sonos family portrait
Aupeo's music-streaming service
The Aupeo music-streaming service provides over 100 compilation genre channels, thousands of artist channels, and just shy of one million music titles. Unlike Pandora, which is only available for streaming to U.S. locations, the Aupeo music-streaming service supports International listeners in over 40 countries, according to Aupeo's website.
Aupeo says its service lets you choose among "100's of Aupeo channels" according to genre, subgenre, mood, and artist. Additionally, there are like/unlike controls — they call them "love" and "ban" — with which you can tailor Aupeo's music streams according to your personal tastes.
DeviceGuru tested Aupeo's iPhone (and iPod Touch) app earlier this month, and judged it to be overly complex and confusing to use despite its fancy looks. By comparison, the Sonos system's Aupeo channel UI is clean, clear, and considerably more intuitive — though nothing exciting from the visual design perspective. However, since the point is to enjoy the music, not the UI, we much prefer ease-of-use to slick eye candy.
Sonos Aupeo channel screenshots
Below are several groups of screenshots showing Aupeo's music-streaming service running on our Sonos setup. The first group shows top-level control; the second shows selection of a stream by genre and subgenre; and the third shows selection of streams according to mood. It's an interesting concept!

Top-level controls…
(click thumbnails to enlarge)















(click thumbnails to enlarge)
Selecting streams by genres and subgenres…
(click thumbnails to enlarge)



















(click thumbnails to enlarge)
Selecting streams by mood…
(click thumbnails to enlarge)






















(click thumbnails to enlarge)
Subscription rates
Like Pandora, Aupeo's music-streaming service is available in a free version that has some restrictions. Pandora's subscription eliminates ads and lets you stream music without any limit. In Aupeo's case, a premium service subscription provides the following enhancements:
Eliminates advertisements
Allows unlimited skips
Lets you tune each channel's "DNA," via the "love" and "ban" buttons (thumbs up/down on the Sonos app)
Upgrades audio quality to 192kbps
Supports an unlimited number of hardware devices
Aupeo's "premium" subscription runs $5/month or $50/year, vs. Pandora's at $36 per year.
Further information
For lots more information about Sonos's audio-streaming equipment, read our detailed Sonos review or visit Sonos's website. And to learn more about Aupeo, refer to our detailed Aupeo review or visit Aupeo's website.