Last updated Jun 20, 2012 — 806 views

[Updated Jun 20, 2012] – Sonos, maker of a line of wireless, Internet-streaming music systems, has added a sub-woofer to its offering. The "Sub" adds "soul-shaking, heart-pounding" bass to any of the company's amplified components, says Sonos.
Sonos is well known for its broad family of high quality devices capable of playing music streamed from a variety of Internet and local sources wirelessly — and synchronously — to locations throughout the home.
The photo below shows the new Sub along with the company's earlier Play:3, Play:5, and Connect:Amp components.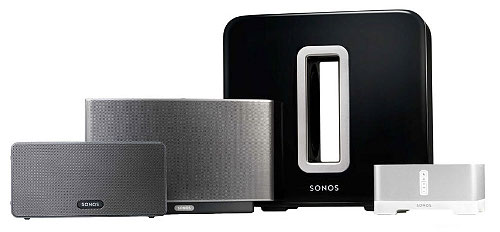 Sonos Play:3, Play:5, Sub, and Connect:Amp
All that's necessary to add the Sub to an existing Sonos installation is to plug it in, press a button on the device, and follow a few simple prompts on the iOS or Android remote control app.
The Sub contains two force-canceling speakers, positioned face-to-face. The speakers are driven by a pair of Class D digital amplifiers, whose filter settings, equalization, and time alignment are digitally optimized to maximize acoustic volume and enhance bass resonance.
DeviceGuru was treated to a demo of the Sub's capabilities at the infamous Hyde Street Studios Studio D in San Francisco last week, and consequently we can attest to the Sub's impressive performance. The setup, shown below, consisted of a Sub plus a pair of Play:3 powered systems. It was hard to believe all that crisp, clean, full-bodied sound emanated from such small boxes!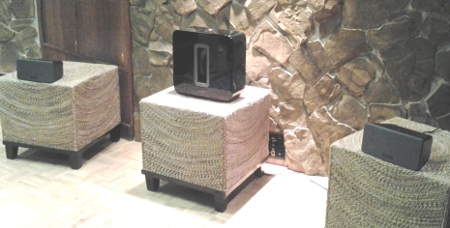 Sonos Sub demo at Hyde Street Studios
(click to enlarge)

Sonos says the Sub's amps "have been perfectly tuned to match the speakers and acoustic architecture," and its cabinet is designed with a proprietary resin that "produces acoustically dead walls with maximum internal air volume." The unit measures 15.8 x 6.2 x 15 inches and weighs 36.3 lbs.
Here's a YouTube video, made by Sonos, showing some of what went into the design and testing of the Sub wireless amplified speaker:
The making of the Sonos Sub
Sonos system architecture
At its grandest, the Sonos whole-home audio system comprises a collection of music-streaming players and wireless bridges scattered around the home, which collectively implement a private WiFi-based mesh network with synchronized music playback as shown below (note: Sonos revised its product names after publishing the following figure).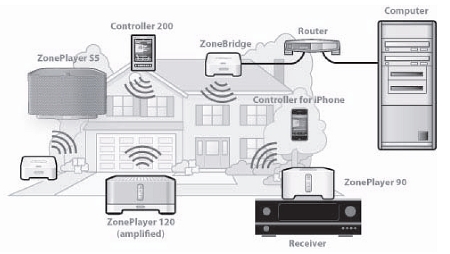 Sonos home audio entertainment architecture
Despite its mesh orientation, a minimal Sonos setup can consist of a single Play:3 or Play:5 component networked to the home LAN via a wired Ethernet connection. To that, you might add the new Sub component for dramatically enhanced bass.
Availability
The company is currently shipping the Sub, priced at $699. For more information on Sonos's Internet-enabled wireless music systems, read DeviceGuru's earlier Sonos review, and visit the company's website.