Last updated Sep 28, 2010 — 1017 views

Sonos has released its new remote controller app for the iPad to Apple, and expects it to show up as a free download in the iTunes app store September 29. The app, which joins a similar one for iPhones and iPod Touches, enables owners of Sonos media streaming devices to control their gadgets without requiring the company's somewhat pricey dedicated wireless remote.

Sonos offers an interesting family of high-quality devices capable of playing audio streamed from a variety of Internet and local sources wirelessly throughout the home. Sonos's Linux-powered "ZonePlayers" represent the core of its wireless home audio entertainment architecture, as illustrated in the drawing below.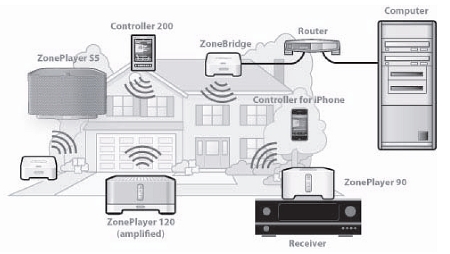 Sonos home audio entertainment architecture

Sonos family portrait
"We've created a brand new Sonos controller experience (versus simply improving the contrast of the iPhone app)," says Sonos media relations rep Thomas Meyer. "The iPad makes for an incredible controller experience with its large, vibrant screen providing enough landscape for the entire Sonos music experience to be within one touch/drag away."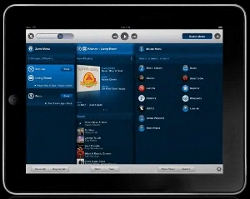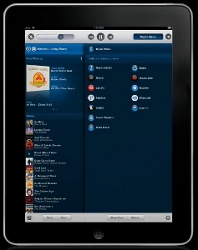 Sonos remote control iPad app homescreen
(click each image to enlarge)

Here's Sonos's description of the new iPad app:
"The Sonos Controller for iPad is a new, dedicated music controller that is optimized for the iPad's large touch screen. From the comfort of your couch, you and your friends can view your rooms, your music and what songs are playing — all at once — in landscape or portrait mode. Quickly search for your favorite artists by typing on the virtual keyboard and browse through albums by pointing and flicking. The Sonos Controller for iPad allows everyone in the home to play DJ. You can browse, search and drag and drop to create the perfect playlist. Get a complete view of what's playing in every zone, complete with full-color album art, elapsed time of a song, and more. Group your zones together or play different songs in different rooms — without interrupting music playback.
In conjunction with the iPad app release, Sonos has also released a software update for its Sonos ZonePlayers. System Software v3.3 "now supports AAC radio stations — adding to the more than 100,000 radio stations, shows, and podcasts you can stream directly" on the devices. Additionally, Sonos users in Finland, France, the Netherlands, Norway, Spain, Sweden, and the UK "now have instant access to ten million songs and all of their playlists on Spotify," says the company.
For further info, check out our review of the Sonos ZonePlayer S5 and 90 ZonePlayers, and visit Sonos's website.