Last updated Oct 7, 2011 — 5984 views

Sonos has added a new member to its wireless music-streaming device family. "Play:3" lowers the bar on size, power consumption, and cost, and is intended for kitchens, bedrooms, and other small- to mid-sized rooms.

Sonos is well known for its broad family of high quality devices capable of playing music streamed from a variety of Internet and local sources wirelessly — and synchronously — to locations throughout the home. Although Sonos designs its gear for use on a wireless mesh network, with various Sonos music-streaming players distributed around the home, the Play:3 can work independently when networked to a home LAN via its wired Ethernet option.
Here's a family portrait showing the principal members of Sonos's music-streaming device family:

Left to right: Play:5, Play:3, Connect:Amp, Connect, Bridge
DeviceGuru reviewed several Sonos products last year. Since then, the company changed the name of its high-end player with built-in speakers from "ZonePlayer S5" to "Play:5," and added a second color option, black, to the Play:5. Additionally, the ZonePlayer 120 and ZonePlayer 90 have been renamed to "Connect:Amp" and "Connect," respectively.
The recently-introduced "Play:3" is essentially a smaller, more power-efficient, lower priced variant of the Play:5. Assuming you have an iOS or Android device that can serve as a Sonos remote control (by installing one of the free Sonos remote control apps on it), the Play:3's $299 price-tag makes it Sonos's new entry-level music-streaming system. It can work all by itself, without any other Sonos products.


The Play:3 is at home in kitchens, bedrooms, offices, and other small rooms
(shown with an iPad 2 serving as its remote control)

How the Sonos system works
At its grandest, the Sonos whole-home audio system comprises a collection of Linux-powered music-streaming players and wireless bridges, which collectively implement a private WiFi-based mesh network. The architecture is illustrated below (note: not all current models and model names are illustrated, but the concept remains the same).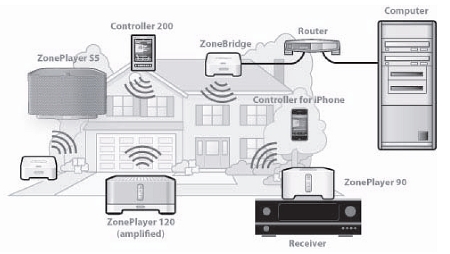 Sonos home audio entertainment architecture
The table below provides a quick feature comparison among the various Sonos music-streaming players and bridges. As indicated, models are available with built-in speakers, with built-in audio amps but no speakers, and with line outputs for driving external audio equipment or amplified speakers. Additionally, some models provide line inputs, enabling external audio sources (including Apple AirPort audio) to be played via the system throughout the home.
Sonos Product Feature Comparison
| | | | | | |
| --- | --- | --- | --- | --- | --- |
| | Play:5 | Play:3 | Connect:Amp | Connect | Bridge |
| Built-in audio amp | 5 channels | 3 channels | stereo | stereo | n/a |
| Audio amp power | not specified | not specified | 110W RMS output | line-level output | n/a |
| Built-in speakers | 5 | 3 | no | no | n/a |
| Audio input port | yes | no | yes | yes | n/a |
| Audio output port | headphone jack | no | left/right speakers, subwoofer | analog; digital (optical, coaxial) | n/a |
| Built-in WiFi mesh | yes | yes | yes | yes | yes |
| Wired Ethernet | 2-port switch | single port | 2-port switch | 2-port switch | 2-port switch |
| Power (active / idle) | 12W/6W | 4W/4W | (not tested) | 4W/4W | 3W/3W |
| Size (h x w x d) | 8.5 x 14.4 x 4.8 in | 5.2 x 10.6 x 6.3 in | 3.5 x 7.3 x 8.2 in | 2.9 x 5.4 x 5.5 in | 1.6 x 4.3 x 4.3 in |
| Current price | $399 | $299 | $499 | $349 | $49 |
Since all four player devices have wired-Ethernet ports, the Sonos Bridge device is only required when necessary to form a link between the home's WAN router and the rest of the Sonos WiFi mesh network (the mesh must connect to the WAN via wired-Ethernet, to satisfy quality-of-service constraints for the overall system, according to Sonos). The Bridge can also be used to extend the range of the mesh, when the distance between Sonos player devices exceeds their reliable WiFi range.
Impressions of the Play:3
In DeviceGuru's testing, the Play:3 strikes an excellent compromise between space, power consumption, sound quality, and cost. Best of all, the device produced pleasant, full-bodied sound in a small- to mid-sized room.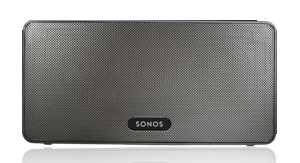 Sonos Play:3 streaming audio player
To our way of thinking, the Play:3's reduced power consumption (4W/4W active/idle) compared to the older Play:5 design (12W/6W) is a healthy step toward a greener overall Sonos ecosystem. Still, we'd prefer to see a deep-sleep state on the order of 1-2 Watts, given that Sonos's gear (like so many others) forgoes power on/off switches.
Although Sonos sells a dedicated remote control device, the company provides free apps for Android and iOS tablets and smartphones, so there's no need for the added expense of Sonos's optional hardware remote. Consequently, a single $299 Sonos Play:3, without any other Sonos devices, can provide one room of Sonos streaming audio all by itself, making it the lowest-cost Sonos setup currently available. Plus, you can always add more Sonos gear to extend the setup in the future.
In short, although we wish the Play:3 had a headphone or line-level audio output jack on the rear panel (so it could optionally drive external audio equipment), and a power on/off pushbutton (so it could be turned off when not needed), DeviceGuru likes it!

Further info
To learn more about Sonos and its wireless music-streaming devices, read our previous detailed reviews of the Sonos streaming-audio gear and its iPad and Android remote control apps. Oh, and you can find Sonos on the web, here.