Last updated Oct 14, 2011 — 453 views

Spotify's music-streaming web service is now available on the Boxee Box. Users subscribed at Spotify's premium level can browse music according to artist, album, record label, genre, or playlist, and also using direct searches.

Although you take advantage of ad-supported free Spotify accounts on desktop PCs running Windows, OS X, or Linux, use of the service on the Boxee Box or on mobile devices running iOS, Android, or Windows Mobile requires a $10/month premium-level subscription. Note, also, that the Spotify Boxee app is NOT currently available to users of Boxee's free media-streaming software platform on PCs and Macs.
"When I tell people about Spotify, I say it's like iTunes, but with millions and millions of songs built in… and sharing that makes 'Ping' look like an 8-track," explains Andrew Kippen, Boxee's chief marketing officer. "With its recent Facebook integration, which lets you discover, share and comment on Spotify music with your friends, Spotify is spreading like wildfire in the US from its base in Europe (where the history comes from)."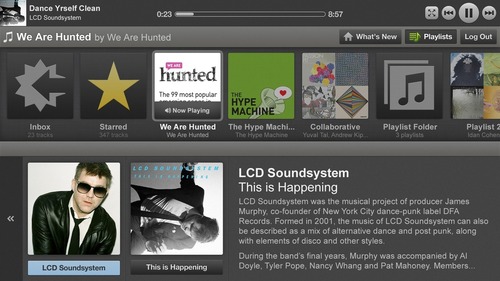 (click to enlarge)

"Adding Spotify's huge music catalog to a Boxee Box with a Premium subscription costs less than a cup of coffee per week," Kippen continues. "Of course anyone can try the service on their computer for free… However, we like the 'Go Big or Go Home' philosophy, and Spotify Premium streams sweet serenades everywhere — providing access on your Boxee Box, mobile phone, and letting you rock out to playlists offline. After a week with the Premium subscription, I deleted all the other music on my phone and now just use Spotify."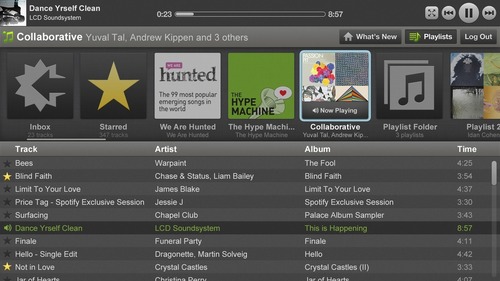 (click to enlarge)

"The week before, at a recent party, we created a shared playlist that all of our friends could add to — from Outkast to LCD Soundsystem to Michael Jackson to Fake Blood," says Kippen. " During the party we used the Spotify app on our computer to DJ the entire thing… from 10pm to 5:30am. For the next one, we're looking forward to turning our Boxee Box into command central for the DJ booth."
"Since Boxee and Spotify are both all about helping you find new stuff you'll love, we thought it would be fun to have Boxee employees share their favorite playlists with you," Kippen adds. "Click on any of the playlists below to listen to them with Spotify. Once you've fallen in love, sign up for a Premium account and start streaming your favorites through your Boxee Box!"
Boxee Team Spontify playlists:
The Boxee Team's Spotify playlists are listed below. To listen to them on your PC or Mac, you'll need to sign up for at least a free Spotify account.
Further info
Access to Spotify's service from iOS or Android smartphones and tablets, or from dedicated devices such as the Boxee Box is restricted to premium-level subscriptions. The service is also also available on Windows, Mac OS X, Linux desktops, at both free and paid subscription levels. Free accounts are supported by visual and audio ads, whereas paid subscriptions are ad-free. Paid subscriptions also provide extra features, such as higher bitrates and offline access to music.
For more details, or to sign up for free or paid music streaming accounts, visit Spotify's website.