Last updated Sep 25, 2012 — 4802 views

Suitable Technologies today unveiled a telepresence robot based on "Texai" technology from Willow Garage, a robotics research lab. "Beam" (as in "Beam me up, Scotty" — no, really!) implements a video chat function on a computer you can remotely drive around via Internet-based control.

More precisely, "Beam is a remote presence system that enables individuals to travel instantly to remote locations, using video conferencing on a mobile platform," according to the company. Its goal to enable a "real, physical sense of presence from Beam that can make professionals in many fields more productive and efficient, while also eliminating travel costs."
Because you're not "stuck to a wall or desk," Suitable adds, Beam becomes "your physical presence anywhere in the world, with the freedom to move and interact with people as if you were there."
These photos show Beam in action, within a typical target environment:










Beam quickly becomes a member of the team
(click images to enlarge)

Beam system components
Beam is not just a robot — it's a complete system, according to Suitable Technologies. The "Beam Remote Presence System" (RPS) comprises three components:
Beam Remote Presence Device (RPD)
Beam Client Software (Client)
Beam Docking Station (Dock)
Beam features and specs
Beam, like Texai before it, leverages embedded software from the open source Robot Operating System (ROS) framework. To that, Suitable Technologies added proprietary video conferencing software developed specifically for use within the telepresence robot.
Beam's key specs include:
Physical — 62 inches tall, 95 pounds weight
Screen — 17-inch, 3:4 aspect ratio screen provides life-size face rendering
Battery power — up eight hours of active use
Speed — human walking speed (1.5 meters/sec)
Dual cameras — overhead and navigational
High definition microphone array
High quality speaker
Two-wheeled differential steering with stabilizing casters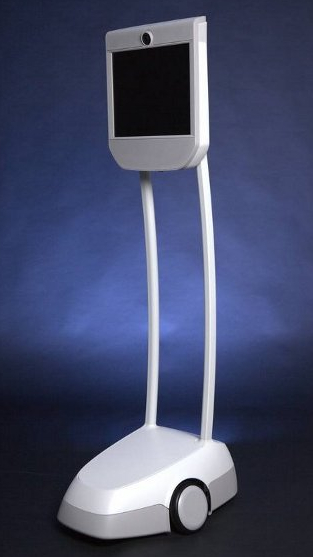 Four 2.4/5 GHz radios supported by proprietary wireless software seemlessly handle transitions between access points, according to the company. The robot also has two high-def cameras, which provide a 170-degree wide field of view, both vertically and horizontally. Additionally, a six-microphone beam-forming array offers human-like audio performance, reduces background noise, and cancels echos; and a sophisticated speaker system allows the Beam pilot's voice to be heard despite noisy environments. Finally, LED lamps enable operation in low light.
Another interesting aspect of Beam's design is that its cameras are positioned such that you feel like you're actually present within the remote location — in particular, they're not located down at the robot's base where your feet would be. Additionally, Beam is easy to drive, and its motion simulates a normal walking speed.
The Beam Client app, which is available for both Windows 7 and Mac OS X, connects to the Beam RPD and provides integrated controls for driving, video, and audio. Using the Client app, the Beam pilot can maneuver the RPD directly into the Beam Dock to recharge its batteries, without requiring local intervention.
Beam also adheres to these operational imperatives, which are inherited from the Texai project:
Reciprocity of vision — "if I see you, you must see me." Since Beam is designed to be a remote presence system (RPS), Beam is built to only support video transport when the pilot is available to the participant. If the pilot does not appear, Beam automatically disconnects. Communication is two-way, not one-way as in most surveillance systems. Rich communication is only effective in a two-way, real-time audio/video experience.
Ensuring private communication — No onboard recording of audio/video. If two people are in the same room, they both have reasonable expectations of having a private conversation with no recording devices — unless implicitly asked. Because Beam needs to preserve this implicit contract, we do not support audio or video recording between the pilot and participants.
Transparency of technology — The pilot is the focus. While many solutions discuss the impressive features of their systems, the technology's focus is on enhancing the pilot's presence. Beam assists the pilot in being present in the remote conversation, while reducing the robot's technology footprint. Beam's technology should assist in communication, and therefore must fade away into the background — leaving the pilot to be present in the conversation.
Respect the social norms — Beam is the pilot in the remote location. While Beam and other RPS players look somewhat technical, we recommend maintaining the same social norms an individual has in person when they are in Beam form. Just as no one wishes to be jostled about by some external party, pushing a Beam when a pilot is present represents a similar disrespect. We recommend asking and respecting a Beam's personal space as you would any other individual.
But the big question is: does Beam also adhere to Isaac Asimov's Three Laws of Robotics? Let's hope so!

Demonstration video
The video below demonstrates Beam's telepresence capabilities, including (watch for it!) two Beams unexpectedly passing each other in a hallway.
Beam demonstration video
Further info
The Beam Remote Presence System will begin shipping in November, priced from $16,000, according to Suitable Technologies. Further information is available on the company's website. Information on Willow Garage's Texai technology is available here.