Last updated Sep 26, 2011 — 962 views

According to market analyst Nielsen's August market data, more than half (56 percent) of the smartphones acquired over the most recent three months ran Android. Perhaps the market analyst's most interesting observation, though, is that innovators prefer Android to iOS by a margin of 40 to 32 percent.

In terms of competition among the top smartphone OSes, Nielson's data pegs Google's Android OS market share at 43 percent, followed by Apple's iOS at 28 percent, RIM's Blackberry at 18 percent, and all others (including Microsoft's Windows Mobile 7 and Windows Phone 7) at 11 percent.
The left section of the following chart shows the August 2011 market shares among the total installed base of smartphones, according to Nielsen's data.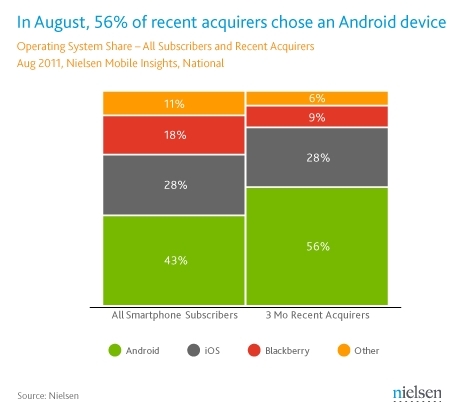 U.S. smartphone market share data, Aug 2011
(image source: Nielsen)

Recent acquisition trends
The right section of the above chart shows Nielsen's data on the relative market shares among OSes in smartphones acquired during the past three months.
"If you ask only those who got a new smartphone in the past three months what kind of phone they chose, more than half (56 percent) will tell you they picked an Android device," explains Nielsen. "The preferences of these so-called 'recent acquirers' are important, as they are often a leading indicator of where the market is going."
Nielsen illustrates this trend in the next graph: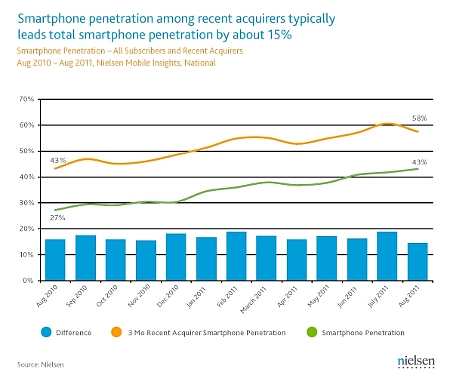 U.S. smartphone market share leading indicators, Aug 2011
(image source: Nielsen; click to enlarge)

"Apple iOS remains popular in second place with 28 percent of all smartphone users, and the same percentage among those who recently got a new device," adds the market analyst firm. "But those figures could change quickly in the months to come. Every time Apple launches a new iPhone or makes it available on a new wireless carrier, there is an increase in their sales."

Innovators prefer Android
Another market trend, from Nielsen's July 2011 smartphone OS market survey results, is that among those respondents who expected to get a new smartphone within the next year, iOS and Android were roughly tied as the likely OS, at about one third each. However, among those identifying themselves as "innovators" — defined by the survey as the "first to embrace new technologies" or the "earliest of early adopters" — Android led iOS by 40 to 32 percent as the OS of choice for future smartphone acquisitions.
The chart below shows these and other observations from Nielsen's July 2011 smartphone OS market analysis.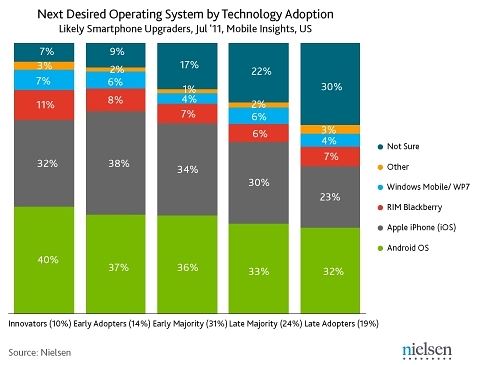 Likely next OS, by user profile — July 2011
(image source: Nielsen)

"Among likely smartphone upgraders, it is the 'Late Adopters' who are most likely to say they are 'not sure' which operating system they'd like in their next smartphone," observes Nielsen. "In politics as in smartphones, these 'undecideds' will be the ones device makers will be hoping to win over."

Expanding smartphone pie
"Changes in share aside, the smartphone pie is getting bigger," adds Nielsen. "While 43 percent of all mobile subscribers in the US had a smartphone as of August, 56 percent of those who got a new device in the last three months chose a smartphone over a feature phone.
"The holiday season and the launch of new devices like the next iPhone could further accelerate smartphone adoption, though this is always tempered by the fact that many consumers are unwilling or unable to break their service contracts before they expire," Nielsen continues. "In any event, the growing popularity of app-and-media friendly smartphones spells tremendous opportunity for those advertisers, publishers and developers eager to leverage mobile media."

[Portions of this post are copyright © 2011 The Nielsen Company, and have been reproduced by DeviceGuru with permission.