Last updated Aug 29, 2008 — 9979 views

Many of you may recall the March, 2006 launch of the much-hyped "Origami" devices by Microsoft and Intel. How is Origami — dubbed "Ultra Mobile PC" (UMPC) by Intel — doing these days?

What's a UMPC?
As originally conceived by Microsoft and Intel, UMPCs were mini tablet-style PCs having the following key features and specs:
Processor — Intel Celeron M or Pentium M; VIA C7-M
RAM — 512MB
Storage — 30-60GB built-in hard drive
Connectivity — WiFi; Bluetooth; Ethernet (optional)
Form-factor — mini-tablet
Display — 4- to 7-inch (or larger) touchscreen LCD; minimum 800 x 480 resolution
Weight — less than 2 pounds
User input methods — on-screen QWERTY touch-keyboard; stylus-based handwriting recognition
Battery life 2.5+ hours
Operating system — Windows XP Tablet PC Edition OS
Price point target — $500 to $1,000.
When Origami was unveiled, Microsoft showcased Samsung's "Q1" UMPC, shown here: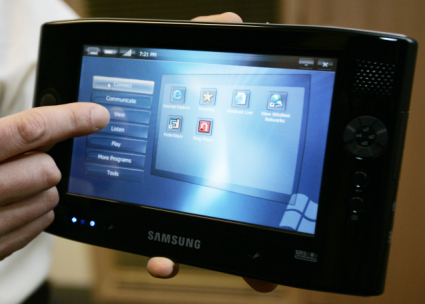 Samsung's Q1 was the first "UMPC"
(Click to enlarge)

Whither UMPC?
In the 2.5 years since the Origami/UMPC device category emerged, dozens of devices have come to market from Samsung, Sony, Fujitsu, Asus, HTC, OQO, and others.
Unfortunately, however, their price points have gravitated toward (or above) the high end target price range for UMPCs ($500 to $1000), as processor speed, memory size, and hard drive capacity have ballooned. One contributor to this situation, of course, was Windows Vista's seemingly insatiable appetite for ever-more CPU, RAM, and HDD resources.
A quick scan of currently available UMPCs, for example, turns up products ranging in price from $670 for Samsung's Q1b, to about $1,000 for Asus's R2H-BH059T-3, to approximately $1,500 for Fujitsu's U2010, to roughly $1,500 for HTC's Shift X9500, to over $2,000 for Sony's Vaio UX490N.
With prices like these, it's no wonder the UMPC hasn't taken the consumer market by storm. In short, the UMPC — as envisioned by Microsoft's latest "UMPC with Origami Experience" description — appears to have collapsed under the weight of unbridled feature creep.
Intel, meanwhile, quietly dropped UMPCs from its marketing initiatives, choosing instead to focus on two new categories of ultra-mobile devices as targets for its low-power Atom processors and associated chipsets. Intel dubs these "mobile Internet devices" (MIDs) and "netbooks."
The MID: Intel's better mousetrap
When you're Intel and you dominate the consumer desktop and laptop PC market, which account for annual shipments of about 300 million processors, but have virtually no presence in the mobile phone market (Intel sold its mobile phone-oriented XScale processor business to Marvel in June of 2006), which now consumes over a billion processors annually, what do you do?
That's right. Invent a new device category that targets the gap between mobile phones and notebook PCs, and uses Intel architecture (aka x86) processors.
So, early in 2007 Intel launched (PDF download) a new category of devices dubbed Mobile Internet Devices, aimed at letting connected consumers take a "full Internet experience" on-the-go. This contrasted with the limited web browsing capabilities of mobile phones at that time.
On its website, Intel currently suggests the following general features and specs for pocket-sized MIDs:
Processor — Intel Atom
Display — 4.5- to 6-inch LCD
User input — touchscreen
Functions provided:

Web surfing
Instant messenging
VoIP
High-definition video and audio
Long battery life
Built-in WiFi; WiMAX (future option)
GPS (option)

Operating system:

Linux, from the Moblin project (or elsewhere)
Windows (possible option)
So, how's the MID market coming along?
Although ABI Research bullishly forecasts shipments of 50 million units annually by 2013, there appears to be little evidence that the MID market is really going anywhere.
In fact, about the only true MIDs to reach market appear to be Nokia's N Series Internet Tablets. These devices, which debuted, some two years before Intel's "invention" of the MID, have only met with limited success.
What's more, few device vendors have followed Nokia over the MID cliff.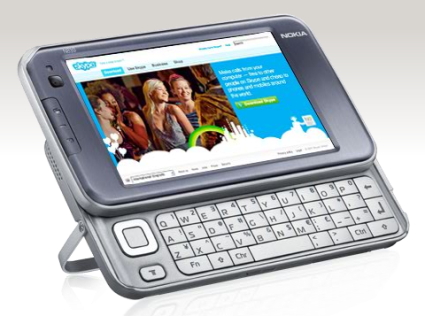 Nokia's N-Series Internet Tablets were the first "MIDs"
Key specifications of the latest Nokia MID, the N810, include:
Processor — 400MHz TI OMAP 2420
System RAM — 128MB
Flash storage memory — up to 2GB; miniSD/microSD expansion to 8GB
Display — 4.1-inch WVGA (800 x 480 pixels)
Connectivity:

Bluetooth
WiFi
WiMAX version available
USB

Weight — one-half pound
Dimensions — 5.0 x 2.8 x 0.6 inches
Operating system — Linux
Why hasn't the MID taken off?
The main problem is this: consumers who want on-the-go Internet already carry a mobile phone around with them, and perhaps also an iPod. They simply don't want to lug around yet another device.
So in June of 2007 — just a few short months after Intel launched the MID device category — when Apple began shipping iPhones, the air was let out of the MID balloon.
RIP MID.
Enter the netbook
Recognizing the usatiated desire of consumers for an on-the-go mobile email and web access device, but at price-points significantly lower than what UMPCs seemed able to provide, Intel and Asus in June, 2007 jointly revealed an alternative to both UMPCs and MIDs. The "netbook," exemplified by Asus's Eee PC, debuted with models priced at $200 and $300.
Netbooks are essentially mini notebooks featuring with screen sizes from 5 to 10 inches, and powered by full-featured client operating systems such as Linux or Windows XP (not Windows CE). As their name implies, the devices are geared toward Internet-based functions, including web surfing, email, instant messaging, A/V content consumption, photo sharing, and social networking.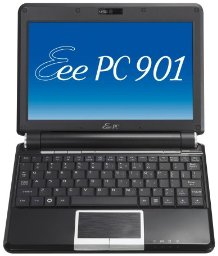 Asus's Eee PCs were the first "netbooks"
Subsequent to the debut of the first Eee PC, Asus has greatly expanded its netbook line. Additionally, netbooks have now been introduced by Acer, Dell, Everex, Fujitsu, HP, Lenovo, MSI, Sylvania, and other lesser-known players. According to Digitimes, Japanese consumer electronics powerhouses NEC, Sony, and Toshiba reportedly will all enter the netbook market soon — presumably in time for the 2008 holiday shopping season.










Representative netbooks from Acer, Asus, Dell, Everex, HP, Lenovo, MSI, and Sylvania
(Click each image to enlarge)

While Netbook specifications vary, Sylvania's recently-announced G Netbook Meso offers an interesting example (although many netbooks use flash memory, rather than hard drives, for program and data storage):
Processor/chipset:

Intel Atom, clocked at 1.6GHz
Intel 945 Express Graphics chipset

RAM — 512MB or 1GB
Storage — 80GB HDD
Display — 8.9-inch LCD; 1024 x 600 resolution; LED backlit
User input — hardware QWERTY keyboard
WLAN/LAN:

802.11 b/g WiFi
10/100 Mbps Ethernet

Audio — stereo speakers; audio in/out jacks
Integrated webcam
Other I/O ports — VGA port; 3x USB 2.0
Expansion card slots — multi-card reader
Physical:

Dimensions — 9 x 7 x 1.25 inches
Weight — 2.2 pounds

OS options:

Ubuntu Netbook Remix
Windows XP Home Edition
Consulting the googlacle, it's seen that netbook prices currently range from slightly below $300 for Asus's entry-level Linux-based Eee PC; around $350 for entry-level models of both Acer's Aspire one, Dell's Inspiron Mini 9, and Sylvania's G; $450 for Everex's CloudBook CE1201V; and $550 for HP's 2133. Not bad!
The lowest-priced models sport 7-inch screens and run Linux from flash, while higher-end models tend to provide bigger screens (up to 10 inches), offer more storage (including HDDs), and run Windows XP instead of Linux. The HP 2133, for example, has an 8.9-inch 1280 x 800 screen, packs a 120GB HDD, and (interestingly) runs a version of Novell's SuSE Linux OS. Asus's high-end Eee PC 1000H, meanwhile, is based on an Intel Atom N270 processor, has a 10-inch display, comes with an 80GB drive, and is offered with either Linux or Windows XP.
Naturally, Intel sees netbooks as way to drive demand for its recently introduced low-power, 45nm Atom processors and chipsets.
The bottom line
Netbooks provide all the features mobile connected consumers want in a convenient, easily-transportable package. The devices are great for surfing the web, checking email, communicating in real time using instant messaging or VoIP, and enjoying multimedia — all with minimal compromise relative to full-sized notebooks.
Comparison of basic UMPC, MID, and netbook features
Feature
UMPC
MID
Netbook
Format
mini-tablet
mini-tablet
mini-notebook
Processor
1-2GHz x86
500-750MHz x86, RISC
800MHz -1.6 GHz x86
RAM
1-2 GB
256-512MB
512MB-2GB
Storage
30-100 GB
HDD
1-2GB
flash
5-100GB
flash or HDD
Screen size
4-7 in.
4-6 in.
7-10 in.
Input method
Touchscreen
Touchscreen
Keyboard
Connectivity
WiFi, Bluetooth, USB
WiFi, Bluetooth, USB
WiFi, Bluetooth, USB
Expansion slots
SD card
microSD card
SD card
Operating system
Windows XP
or Vista
Linux
Linux
or Windows XP
Primary applications
Browser, email, IM, VoIP, office, multimedia
Browser, email, IM, VoIP, multimedia
Browser, email, IM, VoIP, multimedia
Weight
2 pounds
0.5 pounds
2-4 pounds
Dimensions
7 x 9 x 1.25 in.
3 x 5 x 0.6 in.
7 x 9 x 1 in.
Price range
$750-1500
$300-500
$300-750

With dimensions around 9 x 7 x 1 inches, weights of roughly 2 pounds, screen sizes of 7-10 inches, and price tags starting below $300, netbooks provide a convenient, affordable means to stay connected and keep informed on the go. Plus, you don't need a magnifying glass to browse standard web content, read emails, or view videos.
Comparing netbooks to the UMPC concept originally defined by Microsoft and Intel, it's no wonder UMPCs have ended up in the scrap bin of device history. MIDs, meanwhile, fell victim to Apple's excellent design and execution of the iPhone.
Not surprisingly, market analyst Gartner recently forecast stellar netbook market growth — reaching shipments of 8 million annually by 2009.