Last updated Sep 8, 2011 — 114 views

Although ViewSonic demoed a prototype of a 46-inch HDTV "powered by Boxee" at CES in January, we've just learned that ViewSonic has decided against bringing the product to market.

The ViewSonic HDTV prototype contained an embedded computer based on an Intel Atom CE4100 processor. This would have allowed it to "deliver the ultimate Boxee experience, playback of 1080p, browser, accelerated Adobe Flash, HTML5, apps, local, Internet, etc.," Boxee CEO Avner Ronen wrote on Boxee's blog in January.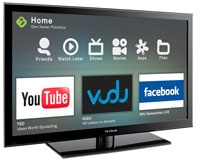 ViewSonic's Boxee-powered HDTV prototype
"The Viewsonic + Boxee product experienced multiple delays from the beginning," Boxee marketing manager Will Robinson explains in an email. "In the end, it was decided by both parties that it wasn't the right fit and the product would not go ahead. We wish Viewsonic all the best for the future."
Are any other Boxee-enabled TVs or set-top-boxes in the works?
"We are currently talking with a few TV manufacturers as well as investigating other device based opportunities for Boxee," says Robinson.
At the time of this post, some info regarding ViewSonic's prototype 46-inch TV running Boxee was present on the company's website, here.