Last updated Jan 15, 2013 — 16917 views

Google has promised a world of entertainment with its Google TV platform, claiming it can bring most any multimedia content to users' TVs, through thousands of user-installable Android apps plus a full-featured Web browser. In this in-depth review, we'll see how close Vizio's Co-Star Google TV adapter box comes to meeting those high expectations.


Google TV background

Google formally rolled out Google TV, a software framework for smart TVs and media streaming boxes, in October of 2010. As part of that launch, Logitech demonstrated the Revue, a Google TV-based companion box, and Sony unveiled a Google TV-based smart TV. When those early Google TV products came to market, they were equipped with very few apps, and, as with Apple's Apple TV boxes, did not allow users to download/install additional apps from an app market.
About a year ago, Google rebooted Google TV with an Android 3.1-based update, dubbing the new version "Google TV 2.0." As demonstrated in our in-depth Google TV 2.0 review, that update infused much greater flexibility into the Google TV platform by adding the ability for users to install Android apps downloaded from Google's Android Market and elsewhere. Although this opened up the possibility that hundreds — even thousands — of free and low-cost TV-formatted Android apps could become available for installation on Google TV-powered devices, very few usable apps were actually available when Google TV 2.0 was released.




Logitech's pioneering "Revue" Google TV box
(click images to enlarge)

Unfortunately, the Logitech Revue (pictured above) had several annoying hardware and software bugs (as noted in our Google TV 2.0 review), which were never remedied. Not surprisingly, the Revue's initial $299 price soon shrank to $199, and then plummeted to $99 due to anemic sales. Eventually Logitech abandoned the product.
Last year saw the development of a new generation of Google TV-equipped boxes and TVs, with their embedded computing engines generally based on ARM rather than Intel processors, as part of a set of aggressive cost reductions. The new design approach enabled Vizio to price the Co-Star at $99, making it competitive with the popular streaming media players from Roku, Apple, and Netgear.

Introducing the Vizio Co-Star
Like the earlier Logitech Revue, the Co-Star's Google TV software platform integrates the streaming of movies, TV shows, and music from Internet and local sources, offers access to news, weather, games, and Web surfing, and provides various live TV features, including picture-in-picture display and a searchable smart program guide.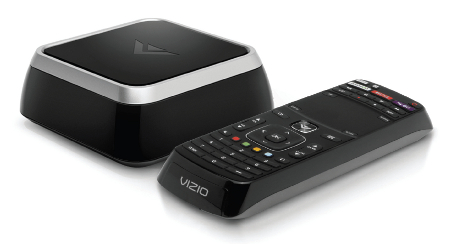 Vizio Co-Star with its two-sided remote
(click image to enlarge)

On the hardware side, the Co-Star is much smaller than the Revue, uses less power, and can be turned on and off via its remote control. The photo below shows the device's connections, which include Ethernet, HDMI in and out, USB, and power.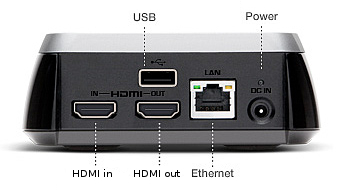 Vizio Co-Star rear panel connections


(click to enlarge)
The Co-Star's remote control (shown on the right) is much smaller than the Revue's. Even so, it includes a touchpad on the front and a mini-QWERTY keyboard on the back. Thankfully, the Co-Star's remote uses Bluetooth, rather than directionally sensitive IR, wireless technology.

Summary of features & specs
The list below summarizes the Vizio Co-Star's key functional features and specs. We'll address the device's user interface and content applications later.
Combines Internet, cable/satellite and local content:

Google Chrome web browser with Adobe Flash support
Streams A/V from DNLA-enabled devices on local network
Plays A/V from USB-connected media
Searches across live TV, Web, and apps
Picture-In-picture mode shows apps + HDMI-input video simultaneously

Audio/video support:

Video resolutions — 720p, 1080i, 1080p with 3D support
Video formats — H.264, MP4, MKV
Audio formats — MP3, AAC, WMA
Up to 5.1 surround sound pass-through

Connections:

HDMI input for cable/satellite or OTA TV signals
USB 2.0 port for external media access
WiFi (802.11n/g/b) and wired Ethernet network interfaces
Bluetooth wireless supports universal remote, keyboard/mouse, touchpad

Size: 4.2 x 4.2 x 1.6 inches
Power consumption: 5-6W typical
Vizio's modified version of Google TV
Vizio has implemented a customized Google TV look-and-feel on the Co-Star, presumably in order to make it easier to select and launch apps while a prior activity still occupies most of the screen.
Although that approach might appeal to some, I prefer the standard Google TV setup's Android tablet-style appearance, which consists of a dock along the bottom for a handful of preferred app-launchers; a full-sized homescreen containing user-selected favorite app-launchers, bookmark-shortcuts, and widgets; and multiple All Apps screens where all of the device's Android apps may be found.
The screenshots in this section demonstrate the Co-Star's Vizio-modified Google TV user interface. The image below shows the Co-Star's default completely-blank desktop, when not occupied by incoming video from cable, satellite, or an antenna, or with content rendered by an Android app.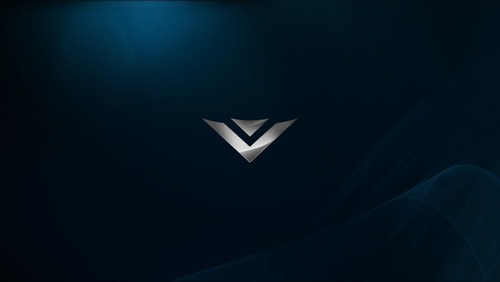 Vizio Co-Star's idle homescreen
(click image to enlarge)

The next screenshot shows the Co-star's default homescreen, with the on-screen menu (showing Favorite Apps) occupying the left portion of the screen. To launch the on-screen menu, you press the "V" button in the center of the Co-Star's remote.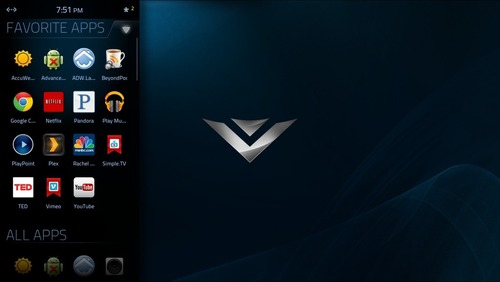 On-screen menu showing Favorite Apps
(click image to enlarge)

From the on-screen menu (above), you can access a notifications menu by using the remote to navigate to the asterisk symbol in the upper-right-corner of the on-screen menu area, and then pressing the remote's "OK" button. This produces a display like that shown below.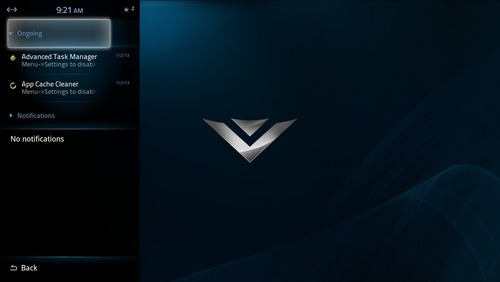 Notifications menu showing status info
(click image to enlarge)

The next screenshot shows Google TV's task selection function, which is invoked by long-pressing the Co-Star remote's "V" button.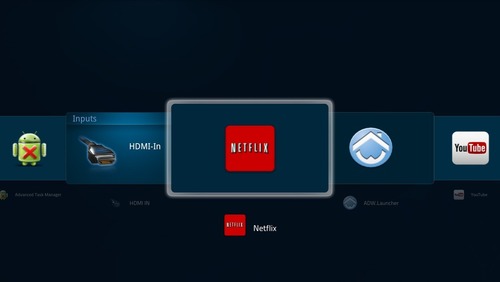 Task selection function
(click image to enlarge)

Additional screenshots demonstrating the Co-Star's default user interface are available in this review's accompanying comprehensive screenshot tour.

Tweaking the Co-Star's user interface
Frankly, I don't like the Co-Star's Vizio-modified Google TV user interface. I prefer having my Google TV homescreen act like a giant Android tablet, giving me instant access to any app or bookmarked Web location within one or two clicks of the remote. In contrast, I find the Co-Star's menu system to be cumbersome and slow.
Consequently, I gave the Co-Star a facelift that brings it into closer alignment with Google TV's standard UI, as seen in our earlier review of Google TV 2.0. This process began with installing and configuring these three Android apps:
ADW — this alternative homescreen manager produces a homescreen, a dock, and multiple all apps screens similar to those of standard Google TV 2.0.
Folder Organizer — this powerful alternative folder function lets you create customized app and bookmark launchers, with standard or custom icons; it also lets you create customized homescreen folders.
Orientation Control — this handy app enables you to configure Google TV to remain permanently in landscape mode, with the result that some apps, which would otherwise refuse to run, can be used on the Co-Star.
Next, I added a bunch of my favorite Android apps for accessing movies, TV episodes, and music; created a set of bookmarks using the Co-Star's Chrome browser; created customized folders, app-launchers, and bookmark-launchers using Folder Organizer; and installed my favorite NASA nebula image as the Co-Star's homescreen wallpaper.
Here is the resulting customized homescreen: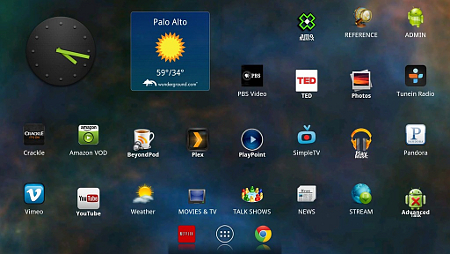 DeviceGuru's tweaked Google TV homescreen
(click image to enlarge)

As seen in the customized Google TV homescreen screenshot (above), the resulting homescreen contains six folders (the icons with upper-case names), 19 launchers for apps and bookmarks, and a pair of widgets for time and weather.
For many more screenshots showing various aspects of DeviceGuru's customized Co-Star user interface, including screenshots showing the contents of the system's six folders and three All Apps screens, visit this review's accompanying Vizio Co-Star Screenshot Tour.

The Co-Star's desktop-class Google Chrome browser
One of Co-Star's major advantages relative to streaming media players like Roku's and Apple's is its "desktop class" Google Chrome browser, which enables the device to access and stream multimedia from arbitrary, user-specified Web locations.
To help you take advantage of that limitless browsing experience, Vizio equipped the Co-Star's remote control with a small glidepad on the front and QWERTY keys on the rear, so you can easily navigate freely around on Web pages, and enter search terms and specific URLs. Additionally, the remote's wireless interface is non-directional Bluetooth, rather than IR, eliminating the awkward positioning that would otherwise be required when using it for text entry.
Also, since Google TV is currently based on Android 3.2, there's an Adobe Flash plug-in that lets the Co-Star stream most of the Flash video content you'll encounter. Note, however, that the Co-Star's Flash compatibility will probably disappear sometime in the future, since Google has discontinued support for Flash in Android versions beyond 4.1.

Streaming movies, TV shows, and audio from the Internet
Although Google's promotional materials claim that Google TV gives you access to thousands of Android apps from Google Play and other sources, there currently are very few Android multimedia apps that operate satisfactorily on the Co-Star. The solution in many cases is to substitute browser shortcuts for key Android content apps that don't work, as you'll see in a moment.
The table below lists 14 popular sources of Internet-based movies, TV shows, and music. Through a combination of Android apps and browser shortcuts, as indicated in the table, DeviceGuru's Co-Star can successfully stream from 10 of the 14 desired sources.
Streaming Movies, TV, and Music from the Internet
| | | |
| --- | --- | --- |
| CONTENT SOURCE | ANDROID APP | BROWSER SHORTCUT |
| Netflix | works well | — |
| YouTube | works well | — |
| Hulu Plus | unusable | unusable |
| Amazon | unusable | works |
| Vudu | unusable | unusable |
| CinemaNow | unusable | works |
| Crackle | unusable | works |
| EPIX | unusable | unusable |
| Vimeo | unusable | works |
| TED | works well | — |
| Plex media client | works well | — |
| PlayOn media client | unusable | (does not apply) |
| TuneIn radio | unusable | works |
| Pandora radio | unusable | works |
As is evident from the table, just 4 of the 14 Android apps associated with the content sources listed in the table installed and operated properly on DeviceGuru's Co-Star. That's an unacceptable success rate! Obviously, Google needs to improve this situation quickly, if it hopes to make Google TV succeed. On the bright side, thanks to the ability to create browser shortcuts, of the 14 key content sources listed in the table, only four — Hulu Plus, Vudu, EPIX, and PlayOn — could not be implemented on the Co-Star.
Keep in mind, however, that although browser shortcuts often could stand in for non-working apps, the browser tends to deliver a poorer "10-foot UI" experience than apps do. That's because browser use generally involves sliding and tapping on the remote's small glidepad area, whereas well-designed Google TV apps can be expected to take advantage of the remote's arrow, play/pause, and other dedicated control keys. There are, of course exceptions: some websites respond surprisingly well to the remote's buttons, while some apps demand tablet-style slides and taps — all of which makes Google TV's overall user experience a bit daunting in comparison to, say, Roku's.
The screenshots below show DeviceGuru's Co-Star streaming movies, TV, and music from various Internet sources, using Android apps and browser shortcuts.
Streaming movies, TV shows, and music from the Internet



















(click images to enlarge)

You can see many more screenshots relating to these and other apps and browser shortcuts in the comprehensive Vizio Co-Star Screenshot Tour that accompanies this review.

Streaming multimedia from local sources
Another area where Google TV excels, is its ability to stream multimedia from local sources, including network shares, under the control of a range of Android apps. In this section, we'll briefly discuss three favorite Android apps, for streaming and rendering multimedia on Google TV from UPnP/DLNA, Windows shares (samba), and AirPlay sources on the local network.
PlayPoint media player — The Co-Star's built-in PlayPoint media player app lets you stream multimedia to the Google TV system from UPnP/DLNA servers and Windows shares on your local network. The app also implements DLNA Media Renderer and DLNA Media Server functions on the Google TV system.
GTVBox media player — The Android GTVBox app supports several standard multimedia streaming protocols, including including UPnP/DLNA, Windows shares, and NFS. The app also provides supprot for Apple AirPlay rendering, though not for Apple "screen mirroring."
aVia Media Player — The aVia Media Player app provides UPnP/DLNA multimedia streaming and rendering functions. You can use aVia to render videos, music, and photos on the Google TV system; sources include local USB and DLNA devices as well as social media services (Facebook and Google+).
The screenshots below show DeviceGuru's Co-Star streaming movies from a DLNA server on the local network, and an iPod Touch beaming a YouTube video to the Co-Star via AirPlay.









(click images to enlarge)

You can see many more screenshots showing network streaming on the Co-Star in the comprehensive Vizio Co-Star Screenshot Tour that accompanies this review.

Cable, satellite, and broadcast TV
As mentioned earlier, the Google TV platform handles video from cable, satellite, and OTA (over-the-air) sources, along with multimedia streamed from Internet and USB sources. However, since DeviceGuru has totally "cut the cable," this review lacks hands-on coverage of the Co-Star's cable or satellite TV-related features, which include picture-in-picture display, smart program guide search, and more.
As an alternative to cable and satellite TV, DeviceGuru is currently evaluating a new device called "Simple.TV," which turns out to work quite well with the Co-Star. However, since the Simple.TV box delivers its content over IP, via an HTML5 stream, rather than as video through the Co-Star's HDMI input connector, none of the cable or satellite TV features (e.g. smart program guide search) apply to the use of Simple.TV.
Although an Android Simple.TV app is said to be under development, the interim solution is a browser shortcut. Fortunately, Google Chrome does a good job rendering the Simple.TV web interface and streaming its HTML5 video. The screenshots below show DeviceGuru's Co-Star streaming live and recorded TV video from our Simple.TV box.








(click images to enlarge)

Viewing photos from USB & Google's cloud
As shown below, the Co-Star's "My Photos" app can display photos and slideshows from attached USB devices and multiple Picasa and Flickr accounts.


(click images to enlarge)
Overall assessment
All-in-all, the Vizio Co-Star is disappointing in many respects, but not hopeless. Here is a brief run-down of its pros and cons, from DeviceGuru's perspective…
Pros:
Desktop-class Google Chrome browser
Supports user-installable Android apps
Streams from local network shares; can render AirPlay
Supports AirPlay-like beaming of YouTube videos from Android devices
Multifunction remote includes glidepad and QWERTY keys
Remote's wireless is Bluetooth rather than IR
Compact, relatively low-power design
Sub-$100 price
Cons:
There are far too few Google TV-specific apps at this point
Many existing Android apps do not work properly on the device
Does not power down/up reliably, from pressing the remote's power button
Vizio's modified Google TV UI leaves much to be desired
In conclusion, DeviceGuru currently does not consider the Co-Star suitable for relatively non-technical users, who aren't prepared to deal with its idiosyncrasies and limitations. That said, the Co-Star does provide some capabilities that are not available on the media streaming players offered by Roku, Apple, and Netgear.
Additionally, it's important to realize that most of the Co-Star's current deficiencies could be eliminated by updates to its Android operating system and Google TV software framework. Speaking of which, Google has indicated that a Google TV 3.0 update (demo video) can be expected soon.

Further info
For further information on the Vizio Co-Star, visit its product page on Vizio's website. For more about Google TV, go here. And don't miss our comprehensive Vizio Co-Star Screenshot Tour, which accompanies this review.