Last updated Aug 27, 2010 — 64 views

In a keynote talk at the Hot Chips conference in Silicon Valley this week, Burkhard Huhnke, Executive Director of Volkswagen's California-based Electronics Research Lab (VW-ERL), shared VW's vision of what cars and their infrastructure may be like two decades from now. Among other advancements, VW aims to bridge the gap between consumer electronics and vehicles, creating intelligent, networked vehicles that interact with each other, their occupants, and both their physical and virtual surroundings.

Huhnke touched on a broad range of technologies and innovations being researched by VW in order to increase the efficiency, safety, comfort, and convenience of future cars. A synopsis of Huhnke's talk, courtesy of the Hot Chips conference, follows…


—————————————————

Looking at Transportation in New Ways
What does mobility look like in the future?
Beginning in 2007, more people have been living in cities than in the country. This is why Kofi Annan has called the twenty‐first century the start of the "urban millennium." Today 22 cities have a population of more than 10 million, and 400 cities are home to more than a million people each. In Asia alone the urban population is growing by 1 million each week.
According to the scenario "Mobility in a Changing World" developed by Volkswagen strategic foresight in cooperation with renowned experts, in 2030, the global energy requirement will primarily be sustained by fossil fuels, but renewable energy sources will also constitute a substantially larger share of the global energy mix than today.
We are well aware that the cost of mobility will increase substantially by 2030. The external costs of mobility and rising resource prices will make mobility services more expensive to afford, but the demand for mobility will continue to grow.
Simultaneously, information and communication technologies will improve the quality of mobility: it will no longer be a problem to plan, book, use, and pay for mobility services while traveling. North America and Asia are already the trendsetters in this field. The spectrum of mobility services will develop into intelligent and efficient mobility solutions, specifically designed for the expected growth in short range travel in urban communities.
Currently, electronics spearhead new development in cars. The complex management of engines — electrical or combustion — gearbox, and driver assistance systems dependent on driving conditions, require an intelligent modular system architecture to make driving not only safer and comfortable but also energy efficient.
The Volkswagen Group operates an internal think tank in the Silicon Valley dedicated to the interdisciplinary study of mobility for the future. Designers, psychologists, and engineers work together within a worldwide network of automotive expert centers to take ideas from concepts and implement them into "the development cycle as soon as possible and drive (ideas) forward."
"We want to place a portion of Silicon Valley into our customer's cars. Why Silicon Valley? (Because) It's a place for generating ideas — ideas that generate real results."
Good ideas and forward thinking is required to conquer the challenges of modern traffic such as: complex traffic situations, the growing need for safety, and decreasing energy resources at a rising cost. From advanced sensors and instrumentation, to intuitive user interfaces, artificial intelligence, energy efficient driving vehicles, and even "social" vehicles, there are no limits to our innovations.
Our cars are developing into our co‐pilots because intelligent technologies make them safer and more comfortable.
Supporting the driver when they are in need of assistance and wonder "Dude, where is my driverless car?" is a goal to accomplish. We want to understand the best way to use this technology to provide additional support to drivers in critical situations.
In order to accomplish these goals we have developed a driverless Audi TTS with Stanford University to drive up the Pikes Peak and reach the summit close to the vehicles handling limit. Our VW Passat Junior 3 (pictured below) demonstrates that the valet parking concept is no longer just a dream for the San Francisco Fisherman's Wharf parking garage — the system does exactly what you want it to do! You get out of the car, tell it to park itself while you go shop, and of course, when you're ready to head home, you can call the car to come and pick you up simply with use of an iPhone app. The car does the rest, all by itself.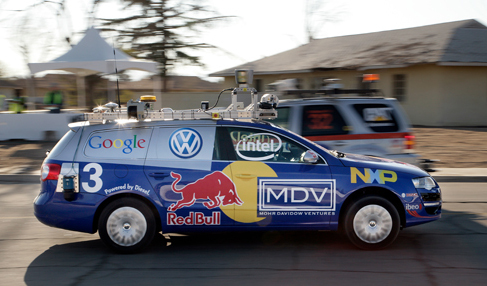 VW-ERL collaborated with Stanford in DARPA's 2007 driverless urban challenge
There is still a long way to go, but step by step, we are able to advance certain features that will be of use in safety systems.
One noticeable change in cars will be the ability for vehicles to network with the infrastructure, other vehicles on the road, and the Internet. These developments will integrate the car into the seamless mobility system very efficiently. We aim to create intelligent vehicles that interact with each other, their occupants, the physical and virtual worlds surrounding them. We want to bridge the gap between consumer electronics and the vehicle.
These innovations free up time for the driver, which is helpful, since we see the potential for vehicles to serve as your personal assistant. Technology today is helping make this possible by integrating our mobile devices into our vehicles — from iPods and iPhones to navigation devices.
Imagine a future where your car can recognize you as soon as you approach it. Technology will enable the car to start itself, download your schedule, and provide you with the optimal route to arrive at your meetings on time. To make things really cool, the navigation might be in 3D. The navigation in the vehicle can provide you a virtual tour of the best restaurants in town and easily make reservations for you based on your voice command.
Cars of the future won't only be intuitive to our needs and wants, but networked vehicles will communicate — car-to-car, and car-to-infrastructure. Cars that communicate with each other, infrastructure, emergency vehicles, and public transportation are the driving force behind a future free of traffic. By integrating incoming information from these sources, cars not only communicate with their drivers to avoid traffic, but also inform them of open parking spaces and dangerous road conditions ahead. This concept is not just futuristic, instead, this technology is already being tested out many places and not just California.
The car of the future will consume fewer resources and have the smallest impact possible on the environment. We will accomplish this goal by having smaller engines; fewer cylinders, lower fuel consumption, and our vehicles will deliver the same if not better performance than before. We are adopting the principle of downsizing for our gasoline engines. The improved efficiency of internal combustion engines combined with the optimization of the entire vehicle, taking into account the potential of alternative fuels, will lead to vehicles that are fuel economical and environmentally friendly by 2030. It is clear that cars with electric drives won´t go into mass production overnight, but all experts agree that: the electric car will shape the future.
The development of new and more powerful electrical drive trains with electrical energy storage systems and corresponding software is just as important for the electric vehicles of the future. Silicon Valley is a fertile ground for innovations in the aforementioned fields thanks to prominent startups in the area and the existing technical expertise from the computing industry. For example, an internal ERL team has been working since early 2009 on the development of a new battery pack for the Audi e-tron concept car.


——————————————

The above abstract was reproduced with permission from the
Hot Chips conference
. Further information regarding VW's Palo Alto, Calif.-based Electronics Research Laboratory is available on its website,
here
.