Last updated Mar 7, 2012 — 17466 views

This in-depth review takes a close look at the second- and third-generation Apple TV streaming media players, equipped with their recently released v5.0 firmware. Despite the third-generation Apple TV's hardware and user interface tweaks, Apple still hasn't added a plug-in apps ecosystem; but the v5.0 firmware's revamped icon-style user interface hints that such a capability is in the offing.


Apple TV evolution
Apple introduced the second-generation Apple TV in the Fall of 2010, roughly when D-Link was accepting orders for its Boxee Box, Google was unveiling its Google TV platform, and Roku started shipping its second-generation Roku XD players.

Apple's tiny Apple TV device
(approximately actual size)

The tiny device (pictured above) represents a substantial size and cost reduction relative to the first-generation Apple TV box. Specifically, its size shrank by three-quarters, to 3.9 x 3.9 x 0.9 in., and its price plummeted by two-thirds, to $99.

What's new?
The third-generation Apple TV box, which shipped on March 16th, is identical in appearance, size, and nearly all other aspects to the second-generation Apple TV.
Notable hardware enhancements in the third-generation Apple TV reportedly include…
a more powerful "Apple A5" processor has replaced the ATV2's A4; it offers enhancements in both CPU and GPU (graphics processing unit) functions
system RAM has been stepped up from 256 to 512 MB
maximum video output resolution has been increased to 1080p
the WiFi circuit has gained a second antenna, which may result in greater WiFi range and speed
For a complete ATV3 teardown including lots of cool photos, visit iFixit.com.
On the software side, the Apple TV's version 5.0 firmware — released in conjunction with the third-generation Apple TV, but which is also a free upgrade for second-generation Apple TVs — provides several new features and capabilities. As listed by Apple, these enhancements include…
New interface — fast visual access to all content choices
Movie purchases in iCloud — supports for buying movies on Apple TV and playing back purchased movies from iCloud
Genius Recommendations — recommendations for content on the iTunes Store based on previous rentals and purchases
Screensaver photos — new National Geographic photos built-in for screensaver
On-device sign-up — on-device sign up for content partners on Apple TV using your Apple ID
Apple TV content strategy
From a content perspective, Apple's competitors have long since adopted a strategy of delivering hundreds of content channels — including numerous sources of pay-per-view, ad-supported, and free content — on their streaming media players.
In contrast, the Apple TV device is much more oriented toward leveraging users' preexisting iTunes investments and encouraging an enduring iTunes revenue stream. Whether that's what users want most remains to be seen, now that the market is heating up with alternatives such as Google TV, Roku, and the Boxee Box.

Revamped, icon-centric user interface
As seen below, the third-generation Apple TV's new icon-centric user interface has five top-level menu options, plus 13 additional content channels. And, as mentioned above, the new user interface is also being incorporated into existing second-generation Apple TVs as part of a free software upgrade to firmware version 5.0 (available now).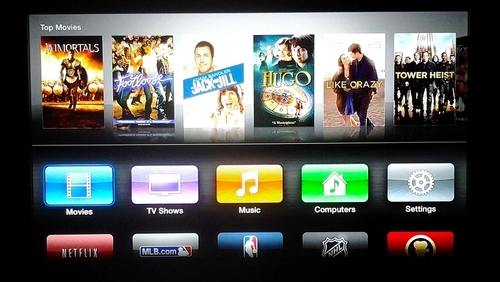 The Apple TV homescreen has 5 top-level options…
Hopefully, the v5.0 firmware's new icon array user interface format is laying the foundation for the release of a third-party Apple TV channel ecosystem later this year.
More than 150 screenshots showcasing the Apple TV's new user interface are available in our extensive third-generation Apple TV screenshot tour.

Features and specs
The table below summarizes the key features and functions provided by the second- and third-generation Apple TV streaming media players. For comparison purposes, Roku's similarly-priced Roku 2 XS player is also included in the table.
Features & Specs Smackdown: Apple TV vs Roku
Apple TV gen2
Apple TV gen3
Roku 2 XS
Netflix
yes
yes
yes
YouTube
yes
yes
no
Other popular sources of movies & TV shows
iTunes
iTunes
Amazon VOD, Hulu Plus, Crackle
Sources of streaming music
iTunes, Internet radio
iTunes, Internet radio
Pandora, Internet radio, others
Total official channels
17
17
> 300
Supports 3rd party apps
no
no
yes
Web browsing
no
no
no
Plays from USB
no
no
yes
Plays from LAN shares
yes: iTunes shared media
yes: iTunes shared media
yes: via 3rd-party apps
Media rendering
AirPlay
AirPlay
no
Max. resolution
720p
1080p
1080p
A/V outputs
HDMI, S/PDIF
HDMI, S/PDIF
HDMI,
composite video,
stereo audio
WiFi
yes
yes
yes
Ethernet
yes
yes
yes
Remote control
IR
IR
RF
Active power
1W
1W
1W
Standby power
< 1W
< 1W
1W
Price
$100
$100
$100
Supported multimedia formats
The list below indicates the formats supported by the second- and third-generation Apple TV devices, as listed by Apple on its website.
Video formats supported
H.264 video:

Second-generation Apple TV: up to 720p, 30 frames per second, Main Profile level 3.1 with AAC-LC audio up to 160 Kbps per channel, 48kHz, stereo audio in .m4v, .mp4, and .mov file formats
Third-generation Apple TV: up to 1080p, 30 frames per second, High or Main Profile level 4.0 or lower, Baseline profile level 3.0 or lower with AAC-LC audio up to 160 Kbps per channel, 48kHz, stereo audio in .m4v, .mp4, and .mov file formats

MPEG-4 video: up to 2.5 Mbps, 640 by 480 pixels, 30 frames per second, Simple Profile with AAC-LC audio up to 160 Kbps, 48kHz, stereo audio in .m4v, .mp4, and .mov file formats
Motion JPEG (M-JPEG): up to 35 Mbps, 1280 by 720 pixels, 30 frames per second, audio in ulaw, PCM stereo audio in .avi file format
Audio formats supported
HE-AAC (V1), AAC (16 to 320 Kbps), protected AAC (from iTunes Store), MP3 (16 to 320 Kbps), MP3 VBR, Audible (formats 2, 3, and 4), Apple Lossless, AIFF, and WAV; Dolby Digital 5.1 surround sound pass-through
Image formats supported
Interface connections
The photo below shows the second- and third-generation Apple TV's rear panel connectors for power, HDMI, optical digital audio, Ethernet, and microUSB.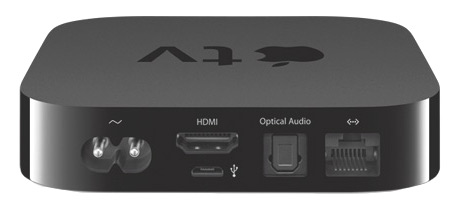 Apple TV rear panel connections
(click image to enlarge)

Apple currently reserves the microUSB connector for service and diagnostics purposes, but it's also being used for "jailbreaking" of the device. Unfortunately, this port can't be used for accessing external media — either the hardware design doesn't support USB OTG capabilities, or "USB host" support is simply unimplemented in the Apple TV's current firmware.

Comprehensive screenshot tour
To give you an idea of what it's like to use the third-generation Apple TV (or second-generation model with its v5.0 firmware update), we've assembled an extensive screenshot tour in a separate post. You can use the index below to access the screenshots in the tour; or, jump directly to the complete Apple TV screenshot tour page. But please be sure to return here for the balance of this review, which includes a run-down of what we like — and don't like — about the third-generation Apple TV.
Apple TV screenshot tour index…
Overall assessment
This section contains a few additional comments on the operation and functionality of the second- and third-generation Apple TV streaming media players, organized in a compliments-and-complaints breakout.
Compliments…
High degree of iTunes integration, of greatest value to those whose multimedia world revolves around iTunes.
AirPlay media-streaming and screen-mirroring are awesome capabilities. Using AirPlay, users with an iPad, iPhone, or iPod Touch (running iOS 4.2 or later) can instantly stream music and video from numerous multimedia apps running on their iDevices to their second- or third-generation Apple TV, for rendering on a TV. (Have a look at these screenshots in our screenshot tour.)
Apple's obsession with quality and perfecting every detail of the device is, as usual, impressive.
Highly consistent user inteface look, feel, and function throughout all the apps and channels.
Generally easy to use, although the distinction between direct-streamed features and those requiring iTunes running on a PC or Mac to function can be confusing at first.
Podcast favorites feature makes it convenient to queue up your preferred podcasts directly from the device.
Rock-solid stability; no crashes or bugs have been experienced in our testing.
Built-in 8GB of flash memory for caching download content ensures smooth streaming.
Rock-solid A/V output.
Ultra-low power consumption; the device's sleep mode, entered automatically following a user-configurable delay, reduces power consumption to well below 1W.
Fanless; totally silent operation.
Complaints…

(click image to enlarge)

Remote control issues — some may love its sleekness, but DeviceGuru's experience with the Apple TV remove (pictured at right) is that it's one of the more frustrating ones we've laid our hands on; we found a tendency to inadvertently press the middle "select" function when attempting up/down/left/right controls. Also, we would rather have the remote use RF signaling, which would eliminate its directional sensitivity.
Not enough content channels — sources like Crackle, Comedy Central, Vudu, Amazon VOD, Hulu, and many others should be added (here's Roku's extensive set). As noted in above, AirPlay can mitigate this issue to some degree, but having the required apps on the Apple TV would result in a better user experience along with higher-quality streaming.
Playing from LAN shares is limited to iTunes — adding the ability to access Windows (samba) and UPnP/DLNA shares would allow the Apple TV device to play music and videos from NAS devices.
Lacks a third-party apps and channels ecosystem — you know, like the Apple App Store…?
Needs a web browser — without a way to access content at arbitrary web locations, the user is restricted to the "walled garden" of approved content channels. Allowing more generalized web access would require broader support for A/V formats along with some UI elements for entering URLs, creating and editing bookmarks, etc. Nothing the creator of the iPad couldn't handle.
Limited range of A/V format support — users must convert their media to iTunes-supported formats in order to play it on the Apple TV through iTunes media sharing.
Lacks ability to play from USB — why hot provide access to multimedia on USB storage connected to the Apple TV's microUSB port?
The bottom line
How do Apple's latest TV media streaming players compare to the growing field of competing products?
We had hoped Apple's third-generation Apple TV would provide more default multimedia channels and add functionality for installing third-party channels through Apple's App Store — but the main enhancement in generation 3 is the increased video output resolution of 1080p. On the other hand, future firmware updates certainly could provide the missing capabilities.
General speaking, we'd only recommend Apple TV to people whose multimedia world tends to revolve around iTunes — mainly dyed-in-the-wool Mac, iPhone, and iPad users. By far, Roku is what we recommend most, to those who've resolved to cut the cable TV umbilical cord, but haven't figured out how to go about it yet. "Get a Roku player and an HDTV antenna, cancel cable, and don't look back!," is our typical advice.
For a detailed comparison between Apple TV and its main competitors — Roku, Google TV, Boxee Box, and Netgear's NeoTV — read our comprehensive streaming media player smackdown.