Last updated Jan 9, 2012 — 69322 views

[Updated Jan 27, 2013] — Powered by Boxee's popular media streaming software platform, D-Link's DSM-380 Boxee Box delivers movies, show episodes, and other A/V content in numerous formats from Internet sites, LAN shares, and attached media to TVs and audio systems.


The D-Link Boxee Box has been discontinued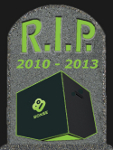 When Boxee announced its new Boxee TV product in October of 2012, it also stated that the original Boxee Box, which had already ceased being manufactured, would soon transition into "maintenance mode." Additionally, the company promised one last firmware update, which would "update the Flash player and fix some key bugs." Additional information is available in DeviceGuru's coverage:
R.I.P. Boxee Box: 2010-2013
So, what's a Boxee Box?
The D-Link Boxee Box is a creatively — though somewhat inefficiently — shaped device that contains a Linux-based embedded computer powered by a 1.2GHz Intel CE4100 Atom processor.
The device's main functional capabilities are essentially those of the Boxee multimedia software on which it's based. Namely, it…
Streams thousands of freely available TV shows from various networks' websites
Plays thousands of add-supported movies and TV episodes, which are freely available for on-demand streaming from numerous web-based providers
Streams thousands of premium movies and TV episodes from subscription-based or pay-per-view web services, such as Netflix and Vudu
Plays videos, songs, or pictures from an attached USB drive or from home network shares
Plays or displays non-DRM video, audio, and photos from anywhere on the Internet
Stylish, eye-catching design
The unusually shaped, cuboid box measures 4.7-inches on a side and has a flush power button on its top. According to D-Link, the innovative industrial design was developed by Astro Studios, which counts among its past accomplishments Microsoft's stylish Xbox 360+.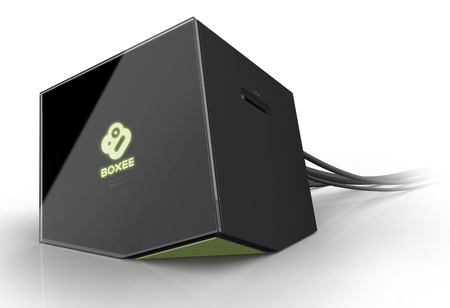 D-Link's Boxee Box
(Click image to enlarge)

While we admire the device's creative design, a more traditional, flat, rectangular mechanical design would have integrated more efficiently with the rest of our entertainment gear, which is stacked within an equipment cabinet. The D-Link device might look cool out in the open, but the device's small, continually-running cooling fan is considerably less annoying behind the cabinet's closed door. Nothing's more annoying than the drone of a cooling fan amidst the quiet, poignant moments of a film!

Boxee Box specs
Here's a list of the multimedia, interface, and networking standards the device supports, as listed by Boxee:
audio formats: MP3, WAV/PCM/LPCM, WMA, AIF/AIFF, AC3/AAC, OGG, FLAC, DTS, Dolby Digital/Dolby True HD
video formats: Adobe Flash 10.1, FLV/On2 VP6 (FLV/FV4/M4V), H.264 AVC (TS/AVI/MKV/MOV/M2TS/MP4), VC-1 (TS/AVI/MKV/WMV), MPEG-1 (DAT/MPG/MPEG), MPEG-2 (MPG/MPEG/VOB/TS/TP/ISO/IFO), MPEG-4 (MP4/AVI/MOV), DivX 3/4/5/6 (AVI/MKV), Xvid (AVI/MKV), WMV9 (WMV/ASF/DVR-MS)
Image formats: JPEG, PNG, GIF, BMP, TIFF
Playlist formats: M3U, PLS, WPL
Subtitle formats: SRT, SUB, SSA, SMI, ASS
Screen resolutions: H.264: 1080p at 30 fps, 1080i at 60 fps; WMV9/VC-1: 1080p at 30 fps, 1080i at 60 fps; MPEG4: 1080p at 30 fps, 1080i at 60 fps; MPEG2: 1080p at 30 fps, 1080i at 60 fps
Network protocols: IPV4, ARP, TCP, UDP, ICMP, DHCP Client, DNS Client, DDNS Client, HTTP Server, Samba Client, RTP/RTMP, VPN: PPTP, UPnP
Connections
An SD Card slot, located on the device's side, is barely visible in the photo above. The photo below shows the following I/O and power connections, which are situated on the Boxee Box's rear panel:
HDMI port
Optical digital audio (S/PDIF) out
Stereo analog audio out
Ethernet RJ-45 connector
2 USB 2.0 ports
AC power input jack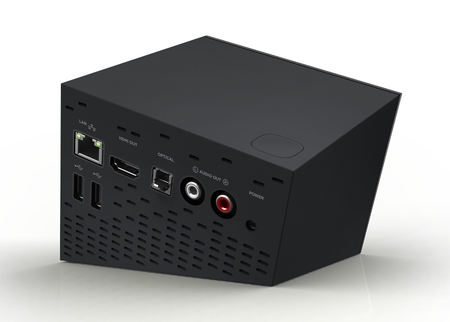 Rear panel connections
(Click image to enlarge)

RF-wireless remote
The Boxee Box comes with a small, easy-to-use, RF-wireless remote control. During operation, nearly everything can easily be accomplished with the handful of navigation keys that are located on the front side of the remote.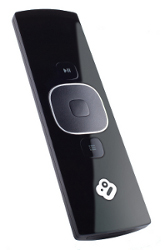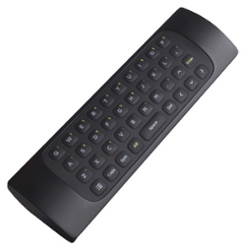 Remote control front (nav keys) and rear (qwerty keys)
(click images to enlarge)

When you want to search for content or enter a specific URL, however, you need to enter text. Although the Boxee software's on-screen keyboard works fairly well for this purpose, it's slow and somewhat cumbersome. To simplify this process, the remote control's rear side provides a complete qwerty-style keypad. Unfortunately, it's hard to read the key labels under the dim lighting conditions typically associated with TV watching. Hopefully, D-Link will address this problem in a future update to the remote.
Below are two additional photos of the D-Link Boxee Box and its remote control. As seen in the photos, one side of the remote has a qwerty-style keyboard, while the other provides several buttons compatible with the Boxee software's simple navigation interface.



(click each image to enlarge)

Using the Boxee Box
The recent Boxee Box v1.5 firmware update implemented significant user interface and feature additions and enhancements, relative to our initial review last April and the v1.0 firmware update review in May.
Home Screen — users are greeted by the following home screen when the Boxee Box first turns on (note: the "Live TV" option is only present when a Boxee Live TV adapter is detected).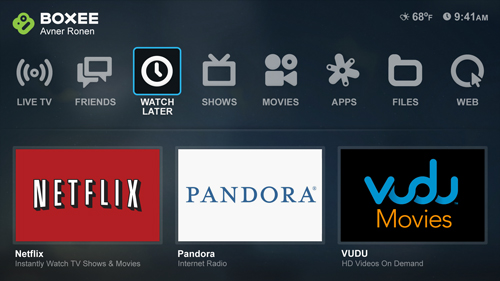 Boxee Box Home Screen
Menu — the Menu pops up as an overlay, allowing you to quickly navigate between different sections or search; the Search function has been optimized to minimize the number of clicks required.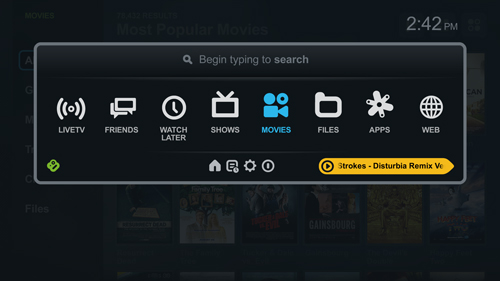 Movies & TV Shows — the Movies and TV Shows screens are designed for easy navigation by Genre and Source, and for quick access to trailers; for TV Shows it's easy to jump between seasons and see which episodes you've already watched.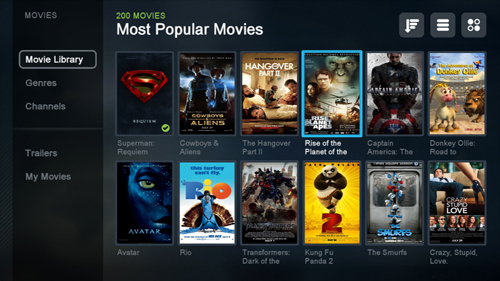 Movie details screen — as of the v1.5 update there's a Movie details screen, which provides extended synopsis and cast and crew information.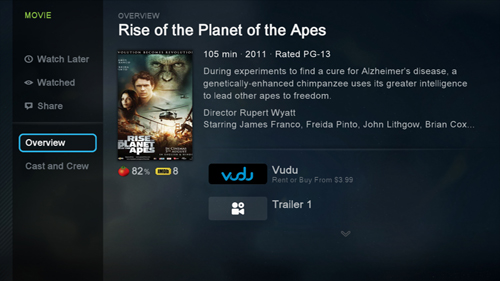 Watch Later & Friends — you can filter between clips, TV Shows, and Movies.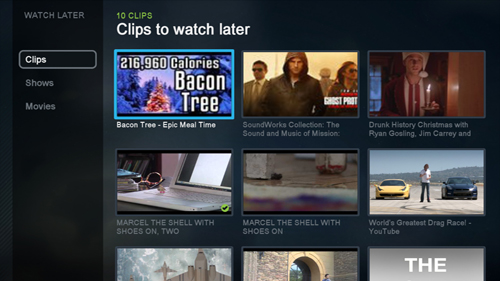 What's playing on the Boxee Box?

The Boxee Box's app library reports that over 250 apps are available for streaming audio and video or viewing various other types of content on the device, not counting apps that can be obtained from third-party repositories.
On the Boxee Box, you can browse the extensive set of apps by app popularity or by category. You can also designate as many apps as "favorites" as you like, making it quick-and-easy to launch the ones you use most frequently.
Visit this section of our screenshot tour to explore the wide selection of available apps. Also, this DeviceGuru post contains a list around 200 of the available apps, including links to many of their content sources, where you can learn more about what they have to offer.

Complete screenshot tour
The screenshot tour below gives a more comprehensive sense of the Boxee Box's user interface and features, as of its version 1.5 firmware update. The screenshots in the tour are sorted by category and accompanied by comments. Click the tour's screenshot thumbnails to view larger images. If you prefer, you can access the entire screenshot tour in its dedicated post, here.
Screenshot tour index:
Boxee iPad App
Boxee has created a nifty "Boxee for iPad" app that can be used with, or without, a Boxee Box. In fact, most of what the iPad app does takes place on the iPad, not on the Boxee Box.
Used in conjunction with the free Boxee Media Manager app for desktop PCs and Macs (available here), the Boxee for iPad app can stream video files from the desktop system to your iPad while you're within your home network.
Another feature of the Boxee iPad app that works whether or not you have a Boxee Box, is that you can access your Boxee Watch Later queue directly on the iPad and play the videos there. But if you have a Boxee Box, you can also send those videos over to the Boxee Box for playing.
Here's a screenshot from the Boxee for iPad app: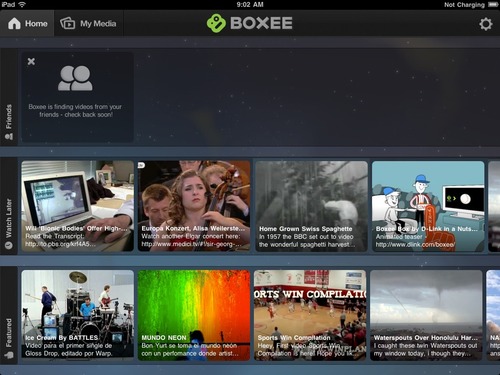 Boxee for iPad provides four content channels
(click image to enlarge)

As seen in the above screenshot, Boxee for iPad provides four video stream channels:
Friends — videos shared by your friends on Facebook, Twitter, and Tumblr
Watch Later — videos you add to your personal Boxee playlist from your PC or Mac, using the Watch Later bookmarklet
Featured — a continually updated feed of videos selected by Boxee's editorial staff
My Media — videos streamed from a Mac or Windows PC on your home LAN
For more information and screenshots, read the complete Boxee for iPad post at BoxeeBoxTips.com (DeviceGuru's sibling site).

Boxee Live TV Option

Boxee Box users will soon be able to play live broadcast TV channels, with the addition of an inexpensive USB HDTV-tuner dongle (pictured at right; click to enlarge). The "Boxee Live TV" capability is supported by Boxee Box firmware version 1.5 or later.
According to Boxee, this feature will enable D-Link Boxee Box users to watch live, broadcast HDTV transmitted via ATSC in the U.S. It will also work with an unencrypted cable connection (using ClearQAM). The capability requires adding a small live-HDTV USB adapter (pictured below), available from Boxee's website.
Initially Boxee Live TV will only work on the D-Link Boxee Box — not on PCs and Macs running Boxee's free, media-streaming software platform. Also, it only supports users in the U.S. and Canada, for now.
The $49 Boxee Live TV product includes a small "portable" HDTV antenna (see below), which shouldn't be expected to be sufficient in many installations, according to Boxee. "For users without a strong over-the-air signal, we recommend a roof-top antenna or a basic cable package (usually free with a Cable Internet)," says the company.


(click image to enlarge)
What about DVR capabilities? The company recently answered this question as follows: "No. The focus of Boxee Live TV is well… Live TV…." However, "having said that, if we get enough users asking for DVR then we could take advantage of that other USB input on the back of the box and let a user connect a drive for recordings."

All this, and AirPlay too!
Another really great feature of the current Boxee Box firmware is its integrated support for Apple's AirPlay media-streaming technology, which is now enabled by default.
What's that do?
From an iPhone, iPod Touch, or iPad running iOS 4.2 or later, you should be able to select "Boxee Box" as the AirPlay target for remote rendering of audio or video, as though it was an AirPort Express or Apple TV box.
Below are some screenshots showing video and audio being streamed via AirPlay video and audio from an iPod Touch and an iPad 2 to a Boxee Box, as indicated in the captions.





Video from the YouTube app on an iPod Touch being AirPlay-streamed to a Boxee Box
(click thumbnails to enlarge)



A song from Pandora on an iPod Touch gets AirPlay-streamed to a Boxee Box
(click image to enlarge)




TV episode in Boxee for iPad being AirPlay-streamed to a Boxee Box
(click image to enlarge)

Overall assessment
So what do we think about the Boxee Box with the v1.5 firmware upgrade?
Quite simply: although it's not perfect, we love it! The Boxee Box's hundreds of apps can stream a dazzling range of movies and shows (free, ad-supported, and pay-per-view), it offers virtually unlimited browser-based access to additional web-based content (note: shortly after this review was published, the Boxee Box ran into a serious problem relating to playing Flash video; see "update" below), and it can also access and play content located on both attached media and LAN shares. Still, all those great features don't mean it's the best choice for everyone.
How does the Boxee Box compare with the growing field of competing products? To answer that question, we'll soon post a comparison of the specs and features of the Boxee Box, Roku player, Google TV, and Apple TV. Watch for that post to show up here at DeviceGuru.com over the next several weeks.
In general, we highly recommend the Boxee Box as today's TV-attachment device with access to the broadest range of streaming media content from both Internet and local sources, provided the user isn't the sort to be intimidated by its somewhat complex array of menus, features, and options.

Alternatively, we tend to suggest the Roku player (pictured on the right) to users preferring a more point-and-shoot-style product, provided they don't mind being limited to the "canned" media-streaming apps in Roku's channel store. That is, since Roku's design lacks a built-in web browser, the device can't navigate to user-specified content such as Comedy Central's Daily Show or other online favorites. On the other hand, the Roku devices are priced at one-third to one-half the price of the Boxee Box.
Watch for our soon-to-be-published "smackdown" comparison, for further insight into the alternatives.

Further information
For further information on the Boxee Box, visit the Boxee user forum, the Boxee Box knowledge base, or D-Link's product pages.
Update — Feb. 18, 2012
The Boxee Box has just developed a serious limitation.
As a result of recent updates to Adobe's Flash player, some highly popular content sources — including Comedy Central's "Daily Show" and "Colbert Report" — no longer stream to the Boxee Box, and it's likely that the problem will also impact video streaming from other popular sites.
At this time, Boxee is uncertain when a Boxee Box firmware update with the required plugin can be made available. As the company states in two quotes below, this situation is at least partly attributable to the ongoing transition to HTML 5.
Please refer to this post on Boxee's user forum for more details.