Last updated Feb 22, 2009 — 22211 views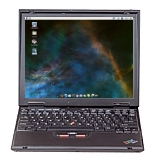 With the Debian Linux project officially designating "Lenny" as its new "stable" distribution, I decided to install it on an old Thinkpad to see how well it performed on a low-end machine. Without doubt, the results surpassed my wildest expectations!

The system I installed Lenny on is an aging Thinkpad X20 (type 2662-35U). It's based on a 600MHz Pentium III CPU and has 192MB of SDRAM, a 20GB hard drive, and a CD-only optical drive. I've had good luck in the past with Debian on this and other under-resourced systems, so I had high hopes that Lenny would play well on it.
Below, I outline the steps I used to install Lenny on the Thinkpad, along with the sequence of configuration settings and hacks I employed to tune it to my liking.
Initial installation
I began by downloading the recently-released 32-bit x86 Lenny netinst iso image from the Debian project's download page. After burning it onto a CD, I inserted it into the laptop's optical drive and booted up into the installer, which looked like this:


Starting Debian's installation process
(Click image to enlarge)

I went with the default, non-graphical installation option, and hit the Enter key to start it going. These screenshots show how the process progresses:
(Click each thumbnail to enlarge)

Lenny's non-graphical installation process
(Click each thumbnail to enlarge)

After the base system installed, I selected the "Desktop environment," "Laptop," and "Standard system" as the package groups to be added to the system.
Of note, I did run into one problem when I first attempted the installation. The process seemed to freeze at 25 percent completion of the "Select and install software phase," with the screen stating "Retrieving file 809 of 809." After trying again — and running into exactly the same failure — I googled the issue and discovered I wasn't the only one having this problem.
On a hunch, I tried selecting a different package mirror than the default one (ftp.us.debian.org) for my region. With a different mirror (linux.csua.berkeley.edu), the installation got past where it had frozen and completed without further incident.
At its end, I was prompted to reboot the system. It booted up into this log-in prompt:


Debian's login prompt
(Click image to enlarge)


After logging in, I arrived on Lenny's default GNOME desktop:


Debian's default desktop
(Click image to enlarge)


Post-install configuration
Now it was time to modify GNOME's settings, add some software, and otherwise customize the system to satisfy my every desire. The following outline lists most of the changes I made. Note that, unless otherwise noted, all command-line steps listed are performed as "root."
First, a few cosmetic tweaks:
Using GNOME's preferences function (Menu > System > Preferences), adjust desktop background, fonts, themes, and colors to taste
Eliminate the bottom-of-screen status/control panel in favor of a single top-of-screen panel
Replace the three-part menu button on the panel (Applications, Places, System) with the simpler GNOME-footprint one
Set the desktop for single-click, rather than double-click, responsiveness; to do this, double-click the Home folder icon on the desktop, go to Edit > Preferences > Behavior, and click the "Single click to open items" option
Add a trash bin to the top-of-screen panel (right-click on the panel and use the "Add to panel" function to do this)
Eliminate the desktop trash bin (go to Menu > System tools > Configuration editor > apps > nautilus > desktop, and uncheck "trash_icon_visible")
Next I modified the system's software sources file, to expand the universe of available software:
Open up a terminal window (Menu > Accessories > Terminal)
Obtain "root" privileges by typing "su" (followed by Enter) at the command line and then giving the root password when prompted to do so
Edit sources.list using the "pico" editor, which can be started using this command:

pico /etc/apt/sources.list
Then do these:

add "contrib non-free" (without the quotation marks) to the end of each of each of the default list's repository lines

add "deb http://www.debian-multimedia.org lenny main contrib non-free" at the bottom of the file

add "deb http://download.skype.com/linux/repos/debian/ stable non-free"
After making those edits, save the file (Ctrl-o followed by Ctrl-x)
Now, from the command line, issue these three instructions (don't worry about the error message that will occur after the first one:

apt-get update
apt-get install debian-multimedia-keyring
apt-get update
Finally, bring the system completely up-to-date with this command:
This last step may result in quite a few updated packages being downloaded and installed.

Installing standard Firefox and Thunderbird
Suffice to say, my decision to replace Iceweasel and Icedove with Firefox and Thunderbird always generates lots of debate and discussion. I just happen to prefer getting Mozilla and Thunderbird — two of the world's most popular open source programs — directly from the group that develops it, so it's always part of my Debian installation process.
Here's how to download and install standard Firefox:
Using Lenny's Iceweasel browser (Menu > Internet > Iceweasel), download Firefox to your home directory. Let's assume the name of the file you downloaded is "firefox-3.0.6.tar.bz2" (the current version as of this writing).
Open up a terminal window and, as root, type the following commands (following each by hitting Enter):

apt-get remove iceweasel
mv firefox-3.0.6.tar.bz2 /usr/lib/
cd /usr/lib/
tar -jxvf firefox-3.0.6.tar.bz2
ln -s /usr/lib/firefox/firefox /usr/bin/firefox
You'll also need a launch icon on the desktop. Create one using GNOME's standard procedure, or simply save this file to the desktop.
Now, to make use of browser plugins that have already been set up by your Debian installation, you'll want to create a symlink from /usr/lib/firefox/plugins/ to /usr/lib/mozilla/plugins/, using this pair of commands (as root):
rm -rf /usr/lib/firefox/plugins
ln -s /usr/lib/mozilla/plugins /usr/lib/firefox/plugins

Incidentally, on my installation, the default flash plugin that came with Lenny (flash-mozilla.so) required me to click a large play button (shown at right) each time I visited a web page that used flash.
To remedy this, I cruised over to Adobe's flash plugin download page and downloaded Adobe's flash plugin for debian, and then installed it with the command, "dpkg -i install_flash_player_10_linux.deb" (as root). That plugin (flashplugin-alternative.so) works much better.
The procedure for installing Thunderbird is similar to that for Firefox:
Download the program from Mozilla's website, here
Move the file to /usr/lib/ and unzip/untar it
Create a symbolic link from /usr/bin/thunderbird to /usr/lib/thunderbird/thunderbird
Create a Thunderbird desktop launcher (here's one you can use
Installing favorite applications and plugins
Lenny's package manager (Home > System > Administration > Synaptic Package Manager) can be used to accomplish these next steps. However, I prefer to do it from the command line in order to speed the process along.
Here's a command that does the trick (as root):
apt-get install gdebi ssh rsync ntfsprogs cupsys gtk-qt-engine msttcorefonts wvdial sun-java6-plugin acroread mozilla-acroread skype totem mplayer lame libdvdcss2 xine-ui libxine1-gnome realplayer amarok
Two notes regarding the above:
Rumor has it that there are legal restrictions associated with one or two these applications (such having the rights to play dvd's on your linux system), so exercise appropriate caution.
I like Amarok a lot. It's a powerful media player that works great with iPods and other mp3 players, and it also includes a rich selection of streaming "Internet radio" sources. But beware: it comes at the cost of installing quite a few KDE components.
After the above steps, the Lenny installation occupied 3.9GB on the Thinkpad's hard drive.
Adding wbar and prism
At this point I decided to juice up the Thinkpad's desktop using wbar, prism, and google gadgets. If you're interested in learning more about what they are and how they're installed, review my earlier article on adding wbar, prism, and google gadgets to Ubuntu.
There were, however, several key respects in which the process I used on Lenny — and the results — differed from what I did on Ubuntu 8.10. Specifically…
Wbar and Prism — instead of clicking on the package icon on Lenny's GNOME desktop, I used the command line instruction, "dpkg -i (package_name).deb" to install each of these two packages. In each case, dpkg reported dependency problems. To resolve that, I used the command, "apt-get -f install" for each, which installed the missing bits in short order.
Wbar icon image format issue — I noticed that wbar wouldn't load if any of the icon images for the apps it was launching were in svg format. I resolved this by converting a few svg icons to png format.
Prism currently isn't available from the debian repositories. Instead, I located its debian installation package on googlecode.com, here.
Additionally, the prism apps for Gmail, Google Calendar, Google Docs, and so on aren't available from the debian repositories. You can create launchers for them by running the "prism" wizard from the command line (as user, not root), and specifying each web application's url (e.g. mail.google.com, calendar.google.com, docs.google.com). The wizard lets you indicate that you want a desktop launcher; once you've created the launcher, examine its "properties" (right-click on it on the desktop) and copy the command used by the launcher into a wbar entry for the app using wbarconf (Menu > Accessories > WbarConf).
Google gadgets — this one wouldn't install, even after using the "apt-get -f install" instruction. Apparently it's not ready for action on Lenny at the moment. I suspect I could have compiled it on the system, but I decided to wait until it's supported on the Lenny repositories.
Other than these points, I followed the general procedure from my earlier article about installing wbar and prism on Ubuntu. You'll probably want to review that article for more details.
The end result
Following all this, here's what the Thinkpad's desktop looked like:


The Thinkpad's customized desktop;
note Wbar's animated app launchers at the bottom
(Click image to enlarge)




Here are some additional screenshots showing the prism app creation tool; Gmail, Google Calendar, and Google Docs running as prism apps on the desktop; and more:
(Click each thumbnail to enlarge)

(Click each thumbnail to enlarge)




Overall, I'm pleased to report that my installation of Debian's new "stable" release (aka Lenny) on the Thinkpad was relatively painless, and everything I've tried so far works well, including these important laptop functions:
WiFi access to my home network
Bluetooth file transfer to/from my mobile phone
Suspend/resume and hibernate/resume via GNOME's power button
Suspend/resume when the Laptop's screen is physically closed/opened
Despite being based on a 600MHz Pentium III CPU and just 192MB of SDRAM, that tired, old, under-resourced laptop truly has a new lease on life.
Special thanks go to all the hardworking folks who contributed to Lenny's development! It's been a while coming, but well worth the wait.