Last updated Oct 20, 2011 — 5924 views

Netflix has released a new version of its video-streaming app for Android devices that officially adds support for Android 3.x (Honeycomb) tablets. The October 19 release of Netflix app v1.5.0 build 360 also extends Netflix's Android support to Canada and Latin America for the first time.

Prior to this release, users of Android tablets such as our Galaxy Tab 10.1 had been having hit-or-miss results installing and running Netflix on their tablets, apparently due to subtle variations in hardware and firmware versions.
After uninstalling the earlier Netflix app version that had been sideloaded (via a somewhat convoluted process) on DeviceGuru's non-rooted Galaxy Tab 10.1, this new app version installed and ran without any issues.
Now, it remains to be seen whether the app also works on tablets that had been unable to run prior Netflix builds. (Let us know your results via comments, below.)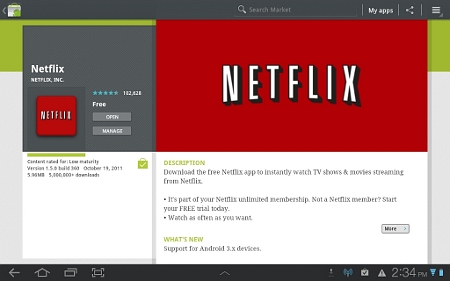 Post-install Netflix app v1.5.0 status on DeviceGuru's Galaxy Tab 10.1
(click image to enlarge)

Here are some screenshots showing Netflix running on DeviceGuru's Galaxy Tab 10.1:







Netflix video streaming on the Galaxy Tab 10.1
(click thumbnails to enlarge)

One additional observation: the Android Netflix app (and also the one that's currently available on the iPad 2, incidentally) doesn't have the UI sophistication and polish of the version that runs on our the Boxee Box or on the Roku player. It can be expected to evolve, though, as suggested by Netflix's device app development strategy.
"Now, Netflix members in U.S., Canada, and Latin America can enjoy Netflix on both their Android smartphones and tablets," concludes Netflix's blog post.