Last updated Jan 4, 2010 — 43098 views

Following closely on the heels of the December announcement of D-Link's Boxee Box, Syabas Technology today said it will ship a $129 Internet-based A/V streaming set-top box (STB) in March. Both new gadgets have the potential to give Roku's popular Netflix-streaming STB a run for its money.

All three boxes can deliver range of Internet-based A/V streaming and social networking services to consumer's TVs. Like Roku's digital video player STB, the PopBox will include Netflix on-demand video streaming when it first ships. D-Link, meanwhile, is rumored to be scrambling to add Netflix streaming support to its Boxee Box device as well, prior to inaugural shipments of that device. All three run embedded Linux OSes, and all are expected to sell for less than $200.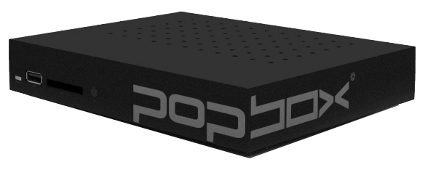 Syabas's PopBox has a simple, boxy look
(click image to enlarge)
Syabas says it will demo a PopBox prototype running the 20 apps listed below this week at
CES in Las Vegas
, with additional apps expected to be on the box when it ships in March.
Initial PopBox Built-in Apps

Netflix
Revision3
Funspot Games
Photobucket
Next New Networks
Livestation
Pico Channel
Thinking Screen Media
Mediafly
Weather Bug

Twitter
Facebook
IMDB
SHOUTcast
Crunchy Roll
Blip TV
Waterfront Entertainment
Channels.Com
FrameChannel
Internet Video Archive

According to Syabas COO Alex Limberis, the PopBox is a spinoff of the company's pioneering
Popcorn Hour
STB (pictured at right).
Relative to the Popcorn Hour, the PopBox has a substantially redesigned UI (user interface), a more finished-looking case, 2GB of internal nonvolatile storage (flash), and a new, extensible application platform through which third-party-developed apps can be downloaded directly into the device. On the other hand, the PopcornHour's media-server functions have been omitted, resulting in a simpler, less expensive device.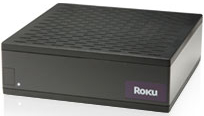 Limberis says the PopBox's configuration requirements and redesigned UI are intended to implement a consumer-friendly device that's "easy enough for my mom to setup and use." In this regard, the company appears to have taken a cue from Roku's highly popular Netflix-streaming STB (shown at right).
Notably absent from the 20 apps listed above is YouTube. As Limberis explains on his blog, YouTube asked Syabas to remove YouTube video streaming capability from the Popcorn Hour STBs based on a "terms of use" restriction pertaining to the use of YouTube's video-streaming APIs (application programming interfaces) by commercial STBs. (Read Limberis's blog post for more details.)
PopBox Screenshots
Here are some screenshots showcasing the PopBox's UI:
(click each image to enlarge)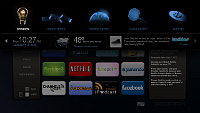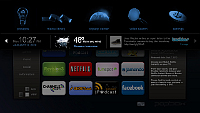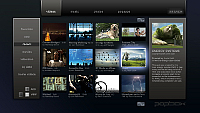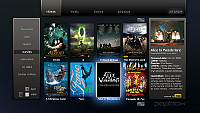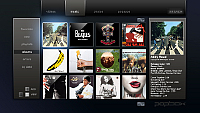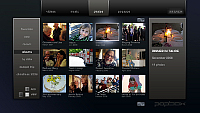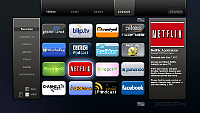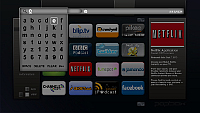 (click each image to enlarge)
What's inside the box?
According to Limberis, the PopBox is based on essentially the same hardware design as its Popcorn Hour predecessor, except without the option of a user-added internal hard drive or of the ability to provide media streaming server functions (dubbed "networked media tank" capabilities) on the home LAN.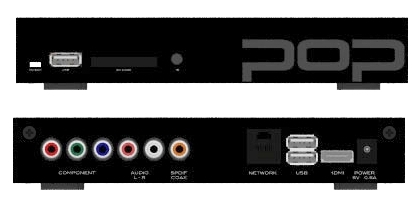 PopBox front view, rear view, and remote control
(click remote control image to enlarge)
Specifically, the PopBox will run a customized Linux 2.6 kernel-based OS on a Sigma Designs SMP8643 system-on-chip (SoC) processor. The SMP8643 SoC integrates a 667MHz MIPS application processor (on which the Linux OS runs), a 2D graphics processor, a trio of 333MHz audio DSPs (digital signal processors), and a dedicated 333MHz security processor (MIPS 4KEc IPU). The chip's hi-definition A/V outputs support MPEG-4.10 (H.264), SMPTE 421M (VC-1), AVS, WMV9, MPEG-4.2, and MPEG-2 media formats.
The SMP8643's on-chip security processor provides robust digital rights management and "conditional access" content protection, which apparently satisfy Netflix's requirements for the streaming of its on-demand video titles. Further details regarding the innards of the PopBox's SMP8643 processor can be spotted on this detailed block diagram.

Summary of hardware specs
All told, the PopBox's key hardware specs will include the following:
Sigma Designs SMP8643 system-on-chip processor:

667MHz MIPS application processor
333MHz security processor
3x 333MHz audio DSPs

Memory:

512MB DDR2 SDRAM
SD Card slot equipped with a 2GB card

Audio/Video outputs:

HDMI v1.3a (up to 1080p)
Component video (up to 1080p)
Stereo analog audio
S/PDIF optical digital audio

Interfaces:

10/100 Ethernet interface
2x USB 2.0 ports

Remote control technology: IR
Power consumption: < 15W
Enclosure:

Size: 8 x 6 x 1.25 inches
Fanless
Supported multimedia formats and standards
Syabas claims the device will support the following codecs, DRM, metadata, and media access standards:
Video: MPEG1/2/4, Open MPEG-4 HD, Xvid-HD and WMV9-HD, VC-1,H.264
Audio: MP1/2/3, WMA, WMA Pro, OggVorbis, AAC, AC3, DTS, PCM, WAV and FLAC
Container: ASF, ISO, IFO, MPEG-TS, MPEG-4, MOV, MKV, AVI, WM-DRM, VOB, MP4, RMP4
Photos: JPEG, animated GIF89a, BMP and PNG
Subtitles: MicroDVD (*.sub), SubRip (*.srt), Sub Station Alpha (*.ssa), Microsoft's Synchronized Accessible Media Interchange -SAMI (*.smi)
Streaming standards: SMB, Bonjour, UPnP, DLNA, WM-DRM, etc.
The bottom line
All in all, if Syabas successfully delivers on its promise of a truly easy-to-use UI, the $129 PopBox could become a highly popular family room gadget during 2010. In particular, the device's support for a wide range of third-party-developed applications could be a significant selling point vs. the more restricted set of user-selectable apps on Roku's similarly-priced STBs.
Limberis says the PopBox will become available for $129 in March from "etailers" such as Amazon and direct from the PopBox website. Additionally, Syabas is in discussion with undisclosed brick-and-mortar retailers in the North American market, he adds.


Related stories: