Last updated Dec 6, 2011 — 75527 views

[Updated Sep 21, 2012] — Although it's not without passionate supporters, Unity, Ubuntu's new default user interface has generated considerable controversy and consternation among faithful Ubuntu users since its introduction last year. For those who prefer a traditional GNOME desktop, this post provides a straightforward method of setting up and configuring a current Ubuntu desktop based on GNOME 3's "Fallback" mode, which works with both Ubuntu 11.10 and 12.04.


This article was originally based on Ubuntu 11.10 but has been updated to include Ubuntu 12.04, which can also be used without the Unity desktop using the method detailed below. The screenshots were made using the original Ubuntu 11.10 implementation.

Please note: There is one important difference between the use of GNOME Fallback mode on Ubuntu 11.10 and 12.04: When using Ubuntu 12.04, to add, move, or delete panel applets, or to access and modify panel properties (size and background), you must press THREE buttons at once — the Alt and Windows menu keys on your keyboard, plus the right button on your mouse. With Ubuntu 11.10, on the other hand, those functions require pressing TWO buttons — the Alt key on your keyboard, plus the right button on your mouse.

What's so special about Unity?
Ubuntu's new default Unity user interface marks a dramatic departure from the GNOME desktops of earlier Ubuntu releases. According to Canonical, the distribution's commercial backer and the instigator of Unity, the new shell brings a more modern "visually rich" graphical user interface to the desktop — one that was "inspired by smartphone and tablet design thinking."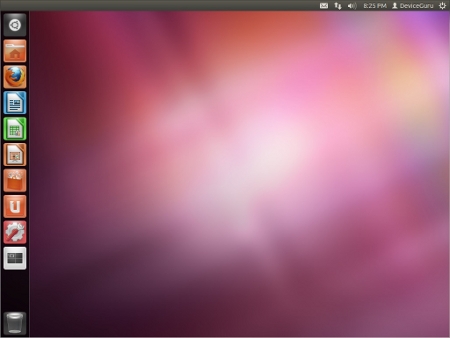 Unity's clean workspace has a launcher on the left
Canonical's hope in creating Unity was for a single user interface to be usable on all types of personal computers, including netbooks, notebooks, desktop PCs, and tablets.
In addition to being a departure from past GNOME desktop designs graphically, Unity is also an attempt to "move away from traditional interfaces, embracing fast and powerful search as the best way to find applications and files," explains Canonical. "This is a trend that comes to Ubuntu from the Web, where users have come to prefer search as the starting point for most journeys. Searching is hosted in the dash. The dash brings files, applications, music and video together in a single location. It's all searchable through the same bar."
But do users really want this? Can a common UI really be equally efficient both on mouse-and-keyboard oriented desktops and laptops, and on touch-based tablets? Are users ready to fundamentally alter how they interact with their systems, both graphically and operationally?
As it turns out, many diehard Ubuntu users have tried Unity and rejected it, preferring to stick with the more traditional GNOME desktop style of previous Ubuntu releases, which they've been efficiently using for many years.
The question of whether Ubuntu's switch to Unity as its default UI was a good or bad idea will be answered by its success or failure in the marketplace. But for now, the move certainly seems to have shifted momentum in the direction of Linux Mint 12, an OS that leans on current Ubuntu (and Debian) packages — but avoids Unity entirely.
Rather than suggesting a switch to Linux Mint or other non-Unity Linux distributions, this post shows how you can easily use standard Ubuntu (v11.10 or later) without Unity, by installing a few packages and tools, and tweaking some configuration settings. Although your preferences will probably differ from what's recommended below, you'll end up with the tools to tune your Ubuntu desktop's look and feel to your liking.
For more background on Unity and on Canonical's controversial decision to make it Ubuntu's new default shell, check out these resources and articles:

Sidestepping Unity
One of Linux's many strengths is that it's highly configurable and flexible. Accordingly, what appears below is just one way to configure a fresh Ubuntu installation to work without Unity, and in a vaguely Windows-like style. The overall procedure involves installing GNOME Fallback mode, adding a few tools and desktop themes, reconfiguring GNOME's notification and task panels, and tweaking some settings.
As you'll soon see, the suggested configuration implements a desktop that features a pair of thin, horizontal panels at its bottom. The upper one is a traditional GNOME taskbar, while the lower panel provides docking space for a main menu button, launchers for a few favorite apps, a status widget tray, and several system control buttons. Alternatively, you can easily setup a more "normal" (pre-11.10) Ubuntu configuration with a taskbar at the bottom and a menu/status panel at the top. The choice is yours!
Oh, and before I get flamed in the comments, I want to make it clear that none of what appears below is my invention — it's simply a matter of aggregating tips and procedures found elsewhere. Surprisingly, it took a fair amount of googling and experimentation to come up with — and test — a simple procedure for configuring Ubuntu 11.10 or 12.04 to work more-or-less like Ubuntu 10.10.

Installing Ubuntu
For starters, grab the appropriate 32- or 64-bit Ubuntu ISO image for your system from Ubuntu's download page and burn it onto a CD or DVD. After backing up your valuable data, boot from the Ubuntu disc.
You'll be offered the option of either trying out the OS without installing it, or beginning the installation immediately. Once you're ready to began the install, start the process and respond to the few prompts from installer. For typical single-OS or dual-booting installations on desktop PCs and laptops, it's quick, simple, and straightforward.
Here are a few screenshots of the process:








Installing Ubuntu is a quick-and-easy process
(click thumbnails to enlarge)

After your installation is complete and you boot up Ubuntu, you'll arrive on its Unity desktop. The screenshots below provide a quick tour of some the basic features of Ubuntu's Unity desktop. For more details on Unity and its features, refer to the references listed above.
Lots of eye candy here…






























Touring Ubuntu's Unity shell desktop
(click thumbnails to enlarge)


Installing and configuring GNOME Fallback
Here are the steps to follow:
Open up the Ubuntu Software Center by clicking on this item in the left-column and then search for, select, and install the "gnome-session-fallback" package (see screenshot at right; click to enlarge).
While we're in the Ubuntu Software Center, let's save time by searching for, selecting, and installing each of the following tools:

Advanced Settings (aka gnome-tweak-tool)
Configuration Editor (aka gconf-editor)
dconf Editor (aka dconf-editor)
"gnome-colors"

…after installing all these, exit the Ubuntu Software Center app. We'll use them later.
Now, log out of Unity by clicking the gear-shaped widget at the right edge of the top panel and selecting "Log Out" — see this screenshot.
This brings you to the login screen from which you'll return to your Ubuntu desktop, but in a non-Unity mode. Click the gear-shaped widget shown at the upper-right corner of the login block in the middle of the screen, and select "GNOME Classic" from the drop-down list (see screenshot at right; click to enlarge).
Enter your password followed by hitting the Enter key, and you should find yourself at a blank GNOME desktop like that shown at right (click image to enlarge).
Next, alt-right-click (Ubuntu 11.10) or alt-windows-menu-right-click (Ubuntu 12.04) on a blank area of the upper panel, select "properties" in the dropdown list, and choose "bottom" to move the status panel to the bottom of the desktop (see screenshot at right; click to enlarge).
Configuring the panels
At this point, you've created a dual-lower-panel GNOME desktop. The upper of these two panels contains a tray where tabs will appear corresponding to each app you open. The lower of the two panels needs to be configured next. The following steps will add an apps/places menu button, shut-down button, space for docking favorite app launchers, status notification area, and volume and trash widgets to the lower panel:
Alt-right-click (Ubuntu 11.10) or alt-windows-menu-right-click (Ubuntu 12.04) over the "Applications Places" widget at the left end of the lower panel and then select Remove from Panel; then do the same with the username widget located near the right edge of the lower panel
Now, alt-right-click (Ubuntu 11.10) or alt-windows-menu-right-click (Ubuntu 12.04)over the date widget in the center of the lower panel, select "Move", and slide it over to the right section of the lower panel.
Alt-right-click (Ubuntu 11.10) or alt-windows-menu-right-click (Ubuntu 12.04) over a blank area of the lower panel blank area, click "Add to Panel", and then select/add the following widgets: Main Menu; Show Desktop; System Monitor Trash; and Shut Down (see screenshot at right; click to enlarge).
Use the alt-right-click/move process (as above) to reposition all the newly-added widgets to where you want them.
Alt-right-click (Ubuntu 11.10) or alt-windows-menu-right-click (Ubuntu 12.04) over a blank area of the lower panel, click Properties, and adjust the panel's Size to 32 or more pixels, or whatever size you prefer (see screenshot at right; click to enlarge); then make a similar adjustment to the upper of the two panels (the taskbar).
Here's how your Ubuntu GNOME Fallback desktop might look following the above procedure steps: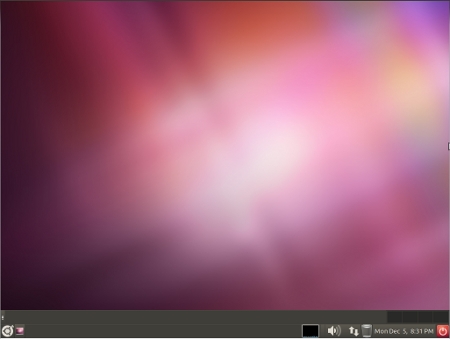 (click to enlarge)

Tailoring and dressing up the desktop
We're nearly done. Let's go through a few additional steps to further tailor the system to our needs…
Drag favorite app launchers from the main system menu to the lower panel dock. Note that the lower panel dock has three distinct regions — left, middle, and right — to which you can drag app launchers. For our example, we've added these favorites to the left section of the dock: Home Folder, Firefox, Thunderbird, Terminal, Text Editor, Calculator, and the Banshee music player; you'll find them all in the Menu system (note: the Home Folder is located in Menu > Places). Of course, your list will differ from ours.
Now's a good time to change the desktop wallpaper to whatever you like. This is done via a right-click on any blank area of desktop to open up the desktop Appearance tool (see screenshot at right; click to enlarge); then select Change Desktop Background. I installed my favorite, a NASA nebula image after clicking the + symbol below the thumbnails of the default wallpaper options, and navigating to the Downloads folder in my Home Folder, where I had downloaded it by clicking this link.
Here's how our Ubuntu GNOME Fallback desktop looks at this point: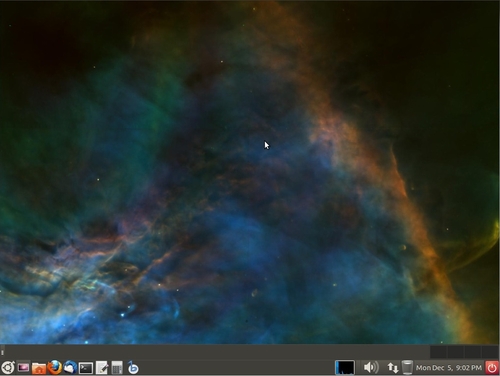 (click to enlarge)

Now, let's proceed with a few more UI and theme tweaks:
Using Advanced Settings (Menu > Other > Advanced Settings), let's configure some desktop theme settings:

Select the Desktop tab and enable all of the desktop icon options (Trash, Home, Computer, Networking, and mounted drives); see left screenshot below.




(click thumbnails to enlarge)


Select the Theme tab, and from there choose your preferred Window, Cursor, GTK+, and Icon themes; the screenshot at the right, above, shows the settings used in this post.
Next, let's change the position and order of GNOME's close/minimize/maximize buttons from Ubuntu's default upper-left position and arrangement (which is similar to the arrangement of Apple's OS X colored blobs); instead, we'll move them to the upper right and use an arrangement that matches Windows 7's (minimize/maximize/close).

To accomplish this, open up the Configuration Editor (Menu > System Tools > Configuration Editor), navigate to apps > metacity > general (see screenshot at right; click to enlarge); then, enter new text in the contents of the "button_layout" variable, to set its value to "menu:minimize,maximize,close" (but without the quotation marks), and hit Enter to activate it — the new window management button scheme should immediately take effect on the tool's window.
Now, let's change the GNOME theme's text highlight color from Ubuntu's default orange to a shade of blue, consistent with our selected "GNOME Brave" theme. To modify the highlight color, open the dconf Editor tool, at Menu > System Tools > dconf Editor; using the tool, navigate to org > gnome > desktop > interface, and find the line labeled gtk-color-scheme (see screenshot at right; click to enlarge).

Enter a new value for that variable by copying the text from the line below, and then press the Enter key to activate it (see screenshot at right; click to enlarge).

bg_color:#f0f1f2;selected_bg_color:#899cb5

The text highlight color in menus and elsewhere should immediately change to the new value.
One more theme adjustment is to change the color of the minimize button (the "X") located at the upper-right corner of windows from Ubuntu's default orange color to something that matches our theme. Unlike other tweaks we've made, this one requires opening up a terminal app and entering a couple of commands on the Linux command line, to install the Ambiance Blue Theme Suite. Don't worry, it's not hard; just follow these steps:

Open up the Terminal app (Menu > Accessories > Terminal)
Type each of these commands followed by the Enter key…

sudo add-apt-repository ppa:satyajit-happy/themes
sudo apt-get update
sudo apt-get install ambiance-blue-theme

Now, open up the Advanced Settings tool (Menu > Other > Advanced Settings), select theme in the left section, and choose "Ambiance Blue" for both the GTK+ theme and Window theme settings (see screenshot at right; click to enlarge). The background of the "X" widget in the upper-right corner of the tool's window should immediately change from orange to blue.
Ta-da!
So that's it! We're done. Here's how our finished Ubuntu desktop looks: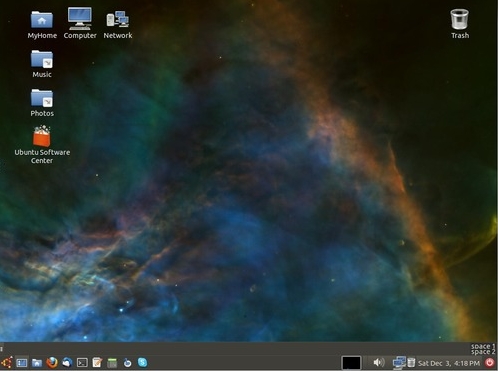 Ubuntu GNOME desktop with personalized settings
(click to enlarge)

The screenshots below illustrate many of the steps of the configuration process described above.













Tweaking Ubuntu's GNOME Desktop
(click thumbnails to enlarge)

Here are some screenshots showing our modified Ubuntu GNOME desktop:





















Touring the tweaked GNOME desktop
(click thumbnails to enlarge)

All this, and Unity too!
It's important to realize that, although we created a modified GNOME desktop similar to the GNOME desktops of Ubuntu 10.x and earlier, we haven't eliminated Unity from the system. As you can see in the screenshots below, you still can logout of your modified GNOME ("GNOME Classic") desktop and then login to the Unity desktop to see what you're missing and familiarize yourself with it (select "Ubuntu" from the gear symbol dropdown when logging in). And then you can return to the modified GNOME desktop by logging out of the Unity desktop and selecting "GNOME Classic" from the gear symbol dropdown when logging back in.
Whichever shell you were using during your last desktop session is what comes up when you login next time, unless you select a different shell from the gear symbol dropdown at the login prompt.







Switching back and forth between GNOME Classic and Ubuntu Unity
(click thumbnails to enlarge)

Who knows — in time we all may come to love Unity!

For further information
You can download the free Ubuntu operating system from the Ubuntu.com download page. If you prefer moving to an alternative, a ready-to-use, non-Unity GNOME/Linux distribution derived from both Ubuntu and Debian Linux packages is available for free download from the Linux Mint website. For more details on Unity, visit Ubuntu.com's main Unity page. For additional GNOME 3 themes beyond the Blue Ambiance one referenced in this post visit the Gnome Look website.