Last updated Jul 10, 2013 — 3126 views

Boxee, the Israeli startup that achieved fame first as the developer of an innovative, free, media-streaming software platform, and later through its partnership with D-Link around the iconic Linux-powered Boxee Box device, has been acquired by Samsung. According to reports by Haaretz and the New York Times, the company's selling price was less than the $28.5 million it raked in from optimistic investors over the past six years.

Founded in 2007, Boxee ultimately obtained funding from Pitango, Softbank, General Catalyst, Spark Capital, Union Square Ventures, and others, and appeared to maintain a tenuous collaboration with D-Link around the now-discontinued Boxee Box and recently-introduced Boxee TV devices.

Early adopters disappointed
Despite being buoyed early on by passionate, primarily Linux-oriented, early adopters, Boxee seemed to make a habit of continually enhancing the features and complexity of its media-streaming software platform, while numerous well-documented bugs languished unresolved. This tendency plagued the company's launch of the D-Link Boxee Box, leading to a largely unsuccessful attempt by CEO Avner Ronen to placate Boxee fans with blog posts and Q&A sessions.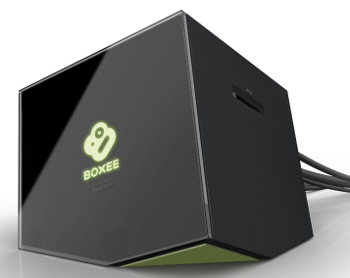 Original Boxee Box device
(click image to enlarge)
Although the D-Link Boxee Box eventually provided easy access to hundreds of video-streaming apps, plus the ability to stream media from local network sources, including rendering AirPlay video from iOS devices, continuing unresolved bugs led the company to develop a simpler, second generation device with a highly-limited set of apps but adding DVR-like recording of live TV.

Take two: Boxee TV
Boxee announced a second-generation media streaming device in Oct. 2012. In contrast with the company's pioneering Boxee Box, the new Boxee TV device (also powered by embedded Linux) featured a limited set of apps for streaming from the most popular Internet-based sources and local network shares, integrated dual digital TV tuners, and provided a DVR function backed by cloud-based storage and watch-anywhere services.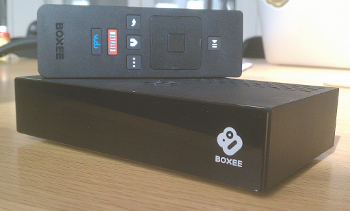 Boxee TV device
(click image to enlarge)
One unique feature of Boxee's second generation product is its use of a cloud service for storing the user's recordings. For a $15/month subscription, Boxee TV users can record as much as they want, and can stream their recorded content from the Boxee TV Cloud to a laptop, tablet, or TV, regardless of location.
Boxee began rolling out the new device last November to eight top U.S. TV markets, including New York City, Los Angeles, Chicago, Dallas, Houston, Atlanta, Philadelphia, and D.C., and said it would be adding additional North American markets throughout 2013.

Whither Boxee TV?
According to the Haaretz report, Samsung will retain Boxee's 40 employees, half of whom are located in Israel. At this point it's not known whether Samsung will continue supporting users of the current D-Link Boxee TV product, or whether D-Link will fill that role.
Either way, users of the existing D-Link Boxee TV product will be disappointed to learn that Boxee is shutting down the device's Cloud DVR service on July 10th. In a message posted on its homepage, Boxee states…
We're pleased to announce that the Boxee team will be joining Samsung.

We started on this journey six years ago, and have been at the forefront of the changing TV and video landscape. We believe that over the next few years the video market will change even more than it has in the past few decades. Joining Samsung means we will be able to work on products that marry the best hardware and software in the TV space, products that will be used by tens of millions of people and will help to shape the future of TV. We are excited about the next chapter for our team.

For Boxee users, we're working behind the scenes to ensure there's minimal impact to your devices. However, the beta Cloud DVR functionality we provided to certain Boxee TV users will be discontinued on July 10th. You will not have access to your existing recordings after that date. We realize many of you loved the service, and we're sorry it won't be available moving forward.

We're incredibly proud of what we've built, and we want to thank you for being a part of our journey.

Sincerely,
Team Boxee
Unfortunately for Boxee TV owners, Cloud DVR functionality was the device's main selling point.

More about Boxee
Considerable additional background on Boxee's software and devices may be found in DeviceGuru.com's Boxee archive.