Last updated Jul 5, 2012 — 40697 views

[Updated Dec 10, 2012] — This post takes an in-depth look at Samsung's Galaxy Tab 2 7.0, which hit the market about six months ago. In addition to a fairly detailed screenshot tour, we examine how the Samsung tablet's features and specs compare to those of the 7-inch tablets recently introduced by Google, Amazon, and Apple.


Getting to know the Galaxy Tab 2 7.0
The photos below show the front and rear of the device in portrait mode. In the rear view, you can see the camera lens.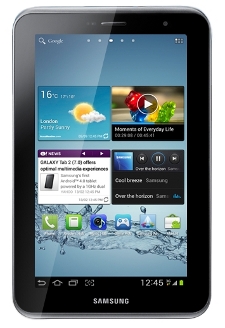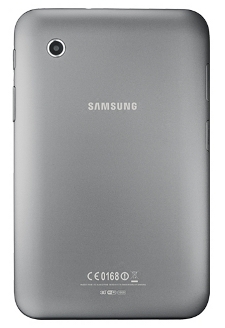 Samsung Galaxy Tab 2 7.0 front and back
(click images to enlarge)

The Galaxy Tab 2 7.0 was basically a minor redesign of the company's prior 7-inch Android tablet, the Galaxy Tab 7.0 Plus. The key changes from the earlier model included:
CPU clock rate reduced to 1.0GHz from 1.2GHz
Internal flash reduced to 8GB from 16GB
LED flash eliminated
HDMI output eliminated
Haptic feedback (vibration) eliminated
OS upgraded to Android 4.0 from Android 3.2
Polaris Office upgraded to 4.0 from 3.0
Price reduced by $100
How the Galaxy Tab 2 7.0 stacks up
The table below shows how the Samsung Galaxy Tab 2 7.0, Google Nexus 7, Kindle Fire HD (7-inch), and iPad Mini stack up against each other from a features and specs perspective.
Galaxy Tab 2 7.0 vs Nexus 7 vs Kindle Fire HD vs iPad Mini
Galaxy Tab 2 7.0
Nexus 7
Kindle Fire HD 7-inch
iPad Mini
Processor
1.0GHz dual-core
1.3GHz quad-core
1.2GHz dual-core
1.0GHz dual-core
RAM
1GB
1GB
1GB
512MB
Internal flash
8GB
16/32GB
16/32GB
16/32/64GB
microSD expansion
yes
no
no
no
OS
Android 4.0
Android 4.1
Custom Android 4.0
iOS
Apps market
Google
Google
Amazon
iTunes
Display resolution
1024×600
1280×800
1280×800
1024×768
Front camera
0.3MP
1.2MP
1.2MP
1.2MP
Rear camera
3MP
no
no
5MP
Video output
no
no
yes
yes
WiFi
yes
yes
yes
yes
Bluetooth
v3.0
v3.0
v3.0
v4.0
GPS
yes
yes
no
no
Battery
4000 mAh
4325 mAh
4400 mAh
4400 mAh
Size (in.)
7.6 x 4.8 x 0.4
7.8 x 4.7 x 0.4
7.6 x 5.4 x 0.4
7.9 x 5.3 x 0.3
Weight
12 oz
12 oz
14 oz
11 oz
Price
$200/8GB
$200/16GB
$250/32GB
$200/16GB
$250/32GB
$330/16GB
$430/32GB
$530/64GB
Although the iPad Mini is included in the comparison table, bear in mind that the Apple and Android tablets run entirely different operating systems. Any realistic tablet comparison can't just be about hardware, but tabulating software tradeoffs would be like trying to summarize the pros and cons of the world's great religions. And as with religion, debates about OSes tend to get very personal!

Initial setup and configuration
When you first turn on the Galaxy Tab 2 7.0, you're presented with a quick series of easy-to-understand setup screens, as shown in the screenshots below.






Galaxy Tab 2 7.0 setup wizard
(click thumbnails to enlarge)

Once the setup process is completed you can add apps, widgets, or folders to the tablet's homescreens, and you can increase or decrease the number of active homescreens. It's easy to change the homescreen and lockscreen backgrounds by long-pressing a blank area of the homescreen and selecting one of the options presented (Gallery, Live wallpapers, Wallpapers). I have a favorite NASA nebula image that I always use.
Although you can't substitute custom images for folders, the folder function lets you drag as many app launchers into a folder as you want. The folders display up to 12 icons at a time in portrait mode, or 16 in landscape mode, and you can scroll them to see any others beyond that quantity.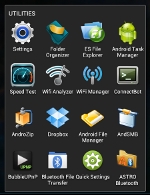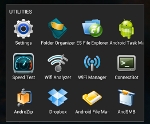 Adding simple folders to the homescreens is a snap
Transferring files
It's easy to transfer files to and from the Galaxy Tab 2.1. The easiest method is by pluging the USB end of the tablet's charging/interface cable into a PC or Mac and simply draging/droping files to or fro by means of the Windows or Mac file manager. Other ways to transfer files include:
Using a microSD card, plugged into the tablet's convenient expansion slot.
Using DropBox, Google Drive, or some other cloud storage service.
Using Bluetooth, porovided your desktop or laptop system supports Bluetooth.
Using a UPnP or Windows share on your local network.
Samsung's Galaxy Tab 2 devices also support the emerging WiFi Direct standard, however it's not widely supported yet.
Yet another method involves the use of Samsung's USB socket adapter (pictured below), which plugs into the multipurpose connector on the bottom of the tablet and provides a USB device socket that can be used with USB peripherals such as thumbdrives. You can even use the USB socket adapter for connecting external peripherals such keyboards and mice, but unfortunately printers are not supported.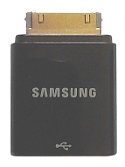 Using a thumbdrive via Samsung's USB socket adapter
(click images to enlarge)

Customizing the tablet's homescreens, launchers, and folders
Although the tablet's Android 4.0 OS includes a basic homescreen folder capability, as discussed above, I greatly prefer the highly flexible and full-featured Folder Organizer app, which is available free from Google's Android apps market.
A few advantages of Folder Organizer over the tablet's default folder function are that you can put both app-launchers and bookmarks in folders; you can assign custom icons to folders, app-launchers, and bookmarks; and there are multiple options for how the items within folders are sorted (most-used, alpha-sorted, etc.). All-in-all, Folder Organizer can create a much more personalized result.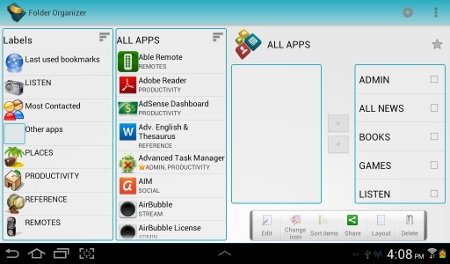 Folder Organizer helps you organize and customize your homescreen folders and launchers
(click image to enlarge)

The screenshot below shows the tablet's finished homescreen, which contains 16 folders, 13 app-launchers, and one widget, which provides one- or two-click access to all 150+ apps installed on the device. Note that I use custom icons for folders, for easy identification; additionally, I capitalize their names to distinguish them from app-launchers and bookmarks.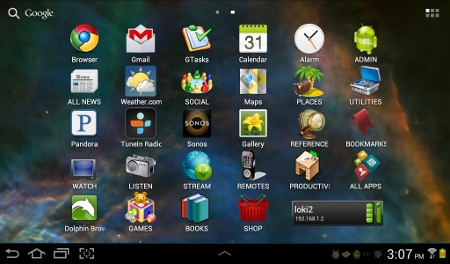 Any of over 150 apps can be launched in 1 or 2 clicks from this single homescreen
(click image to enlarge)

The following screenshots show the contents of 14 of the completed homescreen's 16 folders. The other two contain "all apps" and "all bookmarks."













These 14 homescreen folders provide instant access to over 100 apps
(click thumbnails to enlarge)

Getting productive
In case you were wondering, yes, you really can do "real work" on the Galaxy Tab 2 7.0, particularly given its ability to be used with external Bluetooth or USB keyboards.
Samsung bundles Polaris Office version 4.0 with the tablet. In addition to that, I added Office Suite Pro, which at the time was on sale for 99 cents in Google's Android app market. Both apps let you read, edit, and create Microsoft Office-compatible text, spreadsheet, and presentation documents, and both give you the ability to access and store your documents on DropBox and Google Drive cloud storage.
The screenshots below offer a glimpse of each app's capabilities.





Polaris Office 4.0
(click thumbnails to enlarge)






Office Suite Pro
(click thumbnails to enlarge)

Another useful mobile productivity app is LogMeIn, with which you can access remote Windows desktops and even run Windows programs remotely. The screenshots below show the Galaxy Tab 2 7.0 being used for creating an Open Office spreadsheet and browsing the Web in Firefox on a remote Windows 7 desktop.






Using LogMeIn to remotely access a Windows 7 desktop
(click thumbnails to enlarge)

You can see the names of the other 33 productivity apps located on the tablet in the screenshot below, which shows the contents of the homescreen's Productivity folder.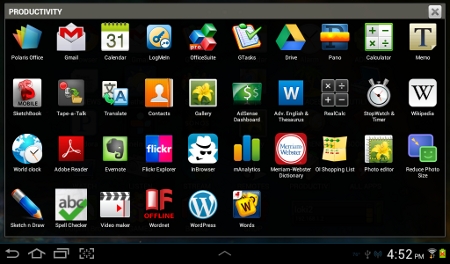 Productivity apps installed on my Galaxy Tab 2 7.0
(click image to enlarge)

Keyboard options
With its crisp, bright screen, the Galaxy Tab 2 7.0 is a super tool for consuming content relating to both work and leisure interests. However, the relatively small onscreen keyboards of 7-inch tablets tends to limit the speed and accuracy with which you can generate documents or write emails. Mercifully, there multiple ways to surmount this problem on the Galaxy Tab 2 7.0.
The best solution is to add a generic or Android-specific external Bluetooth keyboard, such as the one shown in the left photo below (photo source).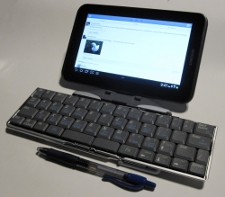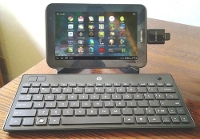 Using the tablet with a Bluetooth or USB-wireless keyboard
(click images to enlarge)

Alternatively, you can connect most any USB-interfaced mobile keyboard via the tablet's optional USB socket adapter. The photo on the right, above, shows the tablet being used with an HP wireless mini keyboard, interfaced via the keyboard's tiny USB wireless adapter (click the image to see more detail). One nice aspect of the HP mini keyboard is its inclusion of a tiny trackball in its upper right-hand corner.
You can also install alternative keyboards via apps from Google's Android market. The Hacker's Keyboard, shown below, adds cursor keys, an escape key, and a mode with function keys and a numeric keypad.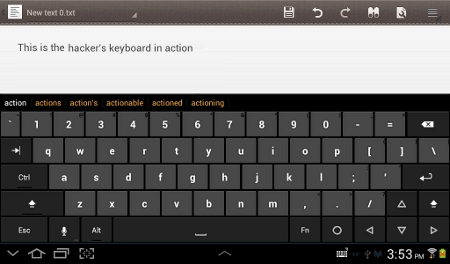 The Hacker's Keyboard adds cursor keys, an escape key, and more
(click image to enlarge)

Another alternative text entry method is "Google Voice typing," which works surprisingly well. You can launch that mode from the microphone icon in the bottom row of the Hacker's Keyboard. Speak slowly and clearly, and it can really speed up your text entry on the tablet.

What else is this tablet good for?
Although I've focused primarily on setting up and configuring the Galaxy Tab 2 7.0 for productivity purposes, there's a whole lot more you can do with it, as you'll see by examining the contents of the 14 homescreen folders shown in earlier.
For more details on the many other tricks the tablet can perform, check out the comprehensive Galaxy Tab 2 7.0 screenshot tour that accompanies this review. There, you'll find more than 300 screenshots showing apps for: device control and file management; watching or reading the latest news; viewing movies and TV episodes; enjoying your favorite music genres and Internet radio; keeping up with the latest news; text messaging and voice/video communications; social networking; reading ebooks; playing games; …and lots more.

Galaxy Tab 2 7.0 Screenshot Tour Index…

The list below provides quick access to the screenshots in the tour by category. Be sure to return here for the remainder of this article, which includes a summary of the pros and cons of the device along with some general conclusions.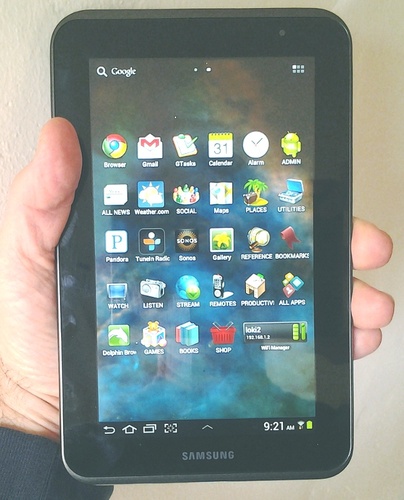 Samsung's Galaxy Tab 2 7.0 is easy to hold in one hand
(click image to enlarge)

The bottom line
In my judgement, the Galaxy Tab 2 7.0 has a lot going for it. Here's a quick rundown of its pros and cons…
Pros:
Inexpensive for a tablet
Lightweight, compact, thin
Bright, crisp, high-resolution (1024 x 600) capacitive touchscreen.
MicroSD slot supports up to 32GB additional removable flash
Adequate mic, speakers, and cameras
Built-in GPS receiver
Usable with USB and Bluetooth keyboard/mouse peripherals
Easy USB or microSD data transfer without requiring special apps
Full set of Google cloud services
Supports Google's Android apps market
Full-featured browser; supports Adobe Flash
Includes Polaris Office 4.0
Decent speech recognition and text-to-speech
Reasonably good active battery life; excellent standby life
Cons:
8GB of internal flash leaves a lot to be desired, but its microSD slot can help
CPU performance lags that of the newer tablets
In conclusion, despite having been around for about six months, the Galaxy Tab 2 7.0 still compares favorably, given its currently discounted price, with the recently introduced 7-inch tablets from Google, Amazon, and Apple. It's a great mobile companion for both work and pleasure.
On the other hand, if you don't need to take pictures using your 7-inch tablet (maybe your smartphone has a decent built-in camera?), the Google Nexus 7 16GB model might be a better choice based on its higher resolution display and higher performance CPU.

Further information
For further details on the tablets discussed in this post, go here:
Be sure to check out DeviceGuru's continually updated Android tablet comparisons: