Last updated May 8, 2012 — 62342 views

[Updated Dec 2, 2012] — Like almost everyone else, DeviceGuru initially dismissed Amazon's $199 Kindle Fire as merely a vehicle for Amazon to generate ongoing revenue from ebook, music, videos, and Android app sales. But when I learned that Kindle Fire refurbs were going for $140, I couldn't resist snapping one up and finding out what I could make it do. Turns out, it wasn't hard to morph it into a relatively full-featured general purpose Android tablet, complete with Google services and apps.


Note: Subsequent to the original publication of this article, Amazon released version 6.3.1 firmware for the Kindle Fire. The rooting and tweaking process described below works for version 6.3 and version 6.3.1 firmware. If your tablet is already rooted at firmware version 6.3 and you need to upgrade to version 6.3.1, refer to this thread (in the comments below the article) for hints and suggestions on managing the upgrade process of your rooted tablet.

Unboxing the Kindle Fire
When the Kindle Fire arrived, I spent a few minutes configuring it and exploring its default features and capabilities. I soon discovered through a settings option (Settings > Device > System Version), that a firmware update to version 6.3 was available for download, so I performed the update, which installed Kindle Fire firmware v6.3 based on Android 2.3.4.
The screenshots below show the Kindle Fire's default homescreens, before I set about rooting and tweaking it. Additional screenshots showing the device's initial startup and settings can be viewed in the complete rooted Kindle Fire screenshot tour, here (startup) and here (settings).










Kindle Fire v6.3 default homescreens
(click thumbnails to enlarge)

The table below summarizes the Kindle Fire's key features and specs. To find out how it compares to other 7-inch Android tablets, check out this DeviceGuru post.
Kindle Fire Features and Specs
| | |
| --- | --- |
| Processor | 1GHz dual-core OMAP4 processor |
| Internal memory | 512MB RAM; 8GB flash |
| OS | Android 2.3 (Gingerbread) |
| Display | 7-inch, 1024 x 600 pixel multi-touch display with IPS (in-plane switching) technology and anti-reflective treatment; 169 ppi, 16 million colors |
| Internal storage | 8GB |
| Cloud storage | Free Amazon Cloud storage for all Amazon content |
| Battery life | Up to 8 hours of continuous reading or 7.5 hours of video playback, with wireless off; battery life varies according to wireless usage |
| Charging time | Approx. 4 hours using included AC adapter; also chargeable via USB |
| Wi-Fi connectivity | Supports 802.11b/g/n/x with WEP, WPA, and WPA2 security |
| USB port | USB 2.0 micro-B connector |
| Audio | 3.5 mm stereo audio jack; top-mounted stereo speakers |
| Content formats supported | Kindle (AZW), TXT, PDF, unprotected MOBI, PRC natively, Audible (Audible Enhanced (AA, AAX)), DOC, DOCX, JPEG, GIF, PNG, BMP, non-DRM AAC, MP3, MIDI, OGG, WAV, MP4, and VP8 |
| System requirements | No computer required |
| Size | 7.5 x 4.7 x 0.45 in |
| Weight | 14.6 oz |
| Price | $199 |
Converting the Kindle fire into a genuine Android tablet
Before proceeding, I feel I must make a confession: despite my having used Linux exclusively as my desktop OS for the past decade, and my having become an avid Android user over the past year, this project was to be my first rooting experience. So the first thing I did was get a quick introduction to rooting and familiarize myself with the associated lingo.

CAUTION!
Rooting your tablet may render it inoperable and may void its warranty.
Fortunately, in the case of the Kindle Fire there's an easy-to-use, Windows-based rooting tool that's designed to simplify the process. The Kindle Fire Utility (KFU) pulls together all the bits and pieces needed to automate the process. Ordinarily, I would have preferred to roll up my sleeves and perform the process manually, using various Linux tools, but as this was my first rooting attempt I didn't want to screw it up due to some newbie blunder.
So, I downloaded KFU from the XDA Developers forum and installed it on an available Windows system. KFU comes as a zip file, which contains Windows drivers and utilities, a handful of Android app apks, and command scripts for rooting the Kindle Fire, substituting "FireFireFIre" for the Kindle Fire's default bootloader, adding either the TWRP (Team Win Recovery Project) or CWMR (ClockWorkMod-based) recovery tool, installing Google's core Android services and apps, and more.
KFU can perform the following functions automatically:
Elevation to root for tool operations
Full root install
Detect current bootmode
Detect ADB/fastboot online/offline
Download update.zip from Amazon
Download and install TWRP recovery tool
Download and install CWMR recovery tool
Download and install FFF Bootloader
Manage current bootmodes
Manage partition read/write status
Install the Go Launcher EX app
Lock/unlock the wallpaper from being changed
To drill deeper into what KFU does, check out the contents of the downloaded KFU zip file and read the included script files (especially run.bat — it's quite informative).

Running KFU
The first time I ran KFU (by clicking run.bat on the Windows PC), it reported that it could not connect with my Kindle Fire. Eventually I found an explanation for why this was happening. It turned out that I had previously installed Samsung's USB drivers and support for accessing my Samsung tablets and smartphone, and that consequently the drivers obtained with KFU weren't being installed or utilized properly. The suggested remedy was to delete the previously installed Samsung KIES tools and drivers, and then let KFU install a fresh set of support for accessing the Kindle Fire. (Additional accounts of handling this problem are available and here.)
Instead of trying to remove the previously-installed Samsung utilities and drivers from the Windows system I was using, I switched to using a different Windows computer, to which Android devices had not previously been connected. That did the trick; a screenshot of the proper driver installed on my Windows 7 system is here.
Note: It has also been suggested that it may be best to run KFU's install_drivers.bat script prior to plugging your Kindle Fire's USB cable into the Windows system, to ensure that the KFU-provided drivers (Windows screenshot) are ready and waiting when Windows tries to register the KFU as a USB device. That way, if Windows decides to hunt for drivers on its own you can prevent it from installing generic driver and point it instead to KFU's "drivers" folder. In summary, the procedure I think works best is to: (1) run KFU's install_drivers.bat script; (2) connect the Kindle Fire's USB cable to the Windows system and let the tablet be recognized by Windows; and (3) run KFU's run.bat script to perform the required rooting and other tasks.
The screenshot below shows the options available from KFU's main menu.

Kindle Fire Utility's main menu
(click image to enlarge)

At this point, I selected KFU's option number 2 for installing permanent root with superuser, then option 3 for installing the TWRP recovery support, and then option 5 for installing the latest FireFireFire bootloader. A series of screenshots showing what KFU did in response to those three menu selections appear in the complete rooted Kindle Fire screenshot tour, here.
After those functions were completed successfully, I selected KFU's option number 6 to install "extras," which includes the Google Android Services Framework, several Google apps (Play, Calendar, Contacts, Voice, Sync), a preferred Facebook app, and Go Launcher EX, a replacement for the Kindle Fire's default homescreen launcher.
After KFU's tasks were finished, I hit Enter on the PC's keyboard to exit KFU, and the Kindle Fire rebooted without incident. Now, however, the tablet's screen displayed the FireFireFire bootloader's triangular yellow logo (leftmost photo, below) during the boot process. Different versions of the FireFireFire bootloader display various unique logos during boot, as shown in the three photos below.



Left to right: older to newer FireFireFire bootloader logos
As of June 2012, the FireFireFire bootloader is at version 1.4a, and shows the white/blue Kindle Fire logo (rightmost photo, above); it also indicates its version number in the upper right-hand corner of the screen while the bootloader is running. Version 1.4A lets you choose between three boot options, via a menu at the bottom of the screen.

Getting to know TWRP
As just mentioned, assuming you have installed the v1.4a (or later) bootloader on the Kindle Fire, the device will now display a white/blue Kindle Fire logo while the bootloader is preparing to load the system after powerup or reboot.
For the first few seconds of the bootloader's operation, the following message will also show up at the bottom of the screen: "Press power button for boot menu." If you press the tablet's power button a couple of times while that message is present, a menu will appear at the bottom of the screen, offering three boot options. It looks like this:
Normal boot
== Recovery ==
Reset boot mode
When the menu appears, tapping the power button will cycle among those three choices; initially "Recovery" is preselected, as shown above. Selecting "Recovery" launches the TWRP recovery console rather than booting the tablet into its normal Android operating system.
Here's a screenshot showing the TWRP recovery console's main menu: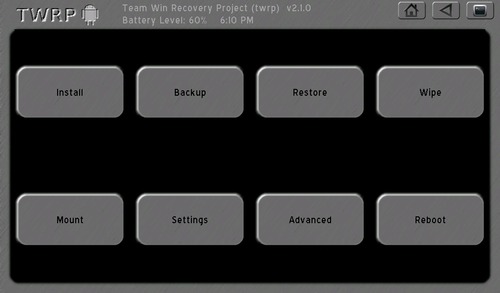 TWRP recovery console main menu
(click image to enlarge)

As you can see from the screenshot above, TWRP provides options for installing a system image, backing up the current system image, "wiping" the device, mounting/unmounting the device's system and data partitions, modifying system partitions, other advanced options, and rebooting the tablet.
Although TWRP's options can seem intimidating, it's said that once you have TWRP installed on the device, there's not much you can do to "brick" it — unless, of course, you mess around with TWRP functions you don't understand or use it absentmindedly. After browsing the Kindle Fire-related discussion threads at the XDA Developers Forum, it's clear that although some Kindle Fires do end up unusable, but most are remedied with available tools following helpful suggestions from forum participants, and a few require the assistance of what's called the "factory cable," which places the tablet in a mode that allows external files to be loaded onto an otherwise nonfunctioning tablet.
Needless to say, the first time I encountered the TWRP console, I hastened to use its Backup function to archive the Kindle Fire's initial system, data, and boot partitions. Later, when I had the Kindle Fire connected to my system in a mode in which I could transfer files between it and the PC, I copied the TWRP-generated backup over to my PC for safekeeping. (Note: TWRP's default backup location on the Kindle Fire is at /sdcard/TWRP/.)
After I had my fill of exploring TWRP's menus and options, and performed a system backup using it, I tapped TWRP's main menu Reboot button to restart the Kindle Fire and find out what had changed.

Tweaking the Kindle Fire's homescreen look and feel
Now it was time to switch the Kindle Fire's look and feel from its default bookshelf-style homescreen, to Go Launcher EX app's more typical Android homescreen.
That opportunity presented itself automatically.
Since KFU had just installed Go Launcher EX (through option 6 of KFU's main menu), the next time I booted up the Kindle Fire and slid the golden arrow to the left to unlock the homescreen, the tablet prompted me to indicate which app should be used for managing the homescreen. Here's that prompt: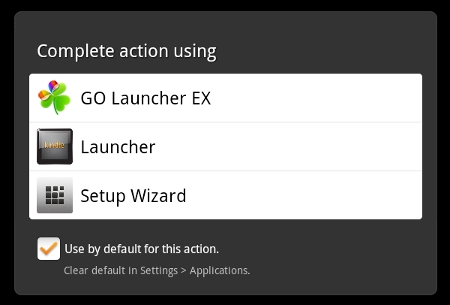 Choosing an alternative homescreen launcher
After tapping the checkbox beside "Use by default for this action," I tapped "Go Launcher EX" to select it as the Kindle Fire's preferred homescreen manager. From then on, the alternative launcher and homescreen manager replaced the Kindle Fire's bookcase-style look and feel. This transformation is shown in the pair of homescreen screenshots below.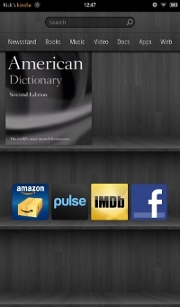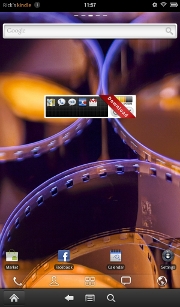 Kindle Fire homescreen before and after activating GO Launcher EX
(click images to enlarge)

If you ever want to restore the default Kindle Fire launcher, just go to Settings > Applications > Go Launcher EX and tap the "Clear defaults" button. Then, the next time you reboot the device, you'll be prompted to choose the launcher you want to use, as above. Choose the standard "Launcher" and you'll be back in Bookshelf City.

Stocking up on apps

Next, since Google's Android Services Framework supposedly was now installed in the Kindle Fire, I tapped the left-most app-icon on the new Go Launcher EX homescreen (see thumbnail at right; click to enlarge it), in an attempt to gain access to Google's Android apps market.
I was immediately prompted to sign into Google's Android Services Framework. The screenshots below show the beginning and end of that process. Additional screenshots for the intervening steps are available on this article's comprehensive screenshot tour page, here.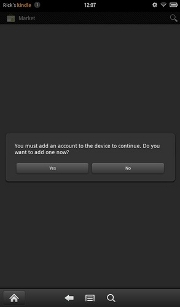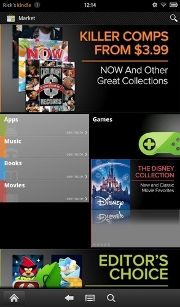 Signing into Google Services and visiting Google's Android market
(click images to enlarge)

Ultimately, I installed over 150 apps on the device, many of which I sideloaded from my ever-expanding archive of Android apks.
The first app I always add to my Android gadgets, and one that's required for the next phase of my Kindle Fire's look and feel transformation, is the superb ES File Explorer app. Among its numerous capabilities, this handy app supports root-specific actions, such enabling write access to system-level files, on rooted Android devices; other important capabilities include the ability to copy files to/from LAN shares (samba) and DropBox cloud storage accounts, perform app backups, and much, much more. Three ES File Explorer screenshots appear below.



ES File Explorer is a must-have app
Modifying (and freezing) the Kindle Fire's wallpaper
Next, I set about adding my favorite NASA nebula wallpaper.
The stock Kindle Fire has a nasty habit of stepping through a sequence of wallpaper images, rather than sticking with a single favorite image. So to work around that, the solution I used was basically the one found here. Namely…
Copy the desired wallpaper image to somewhere convenient on the Kindle Fire's internal sdcard
Using Go Launcher EX's settings function, tap through Wallpaper > Gallery > ES File Explorer, and then (using File Explorer) navigate to where you saved your image on the sdcard, tap the image's file name, adjust if desired, and tap "save"
To make that choice permanent, use ES File Explorer (in root mode) to navigate to this location:


/data/data/com.android.settings/files/

…and then long-press the file named "wallpaper," select "properties" from the menu that appears, select "change," and tap to remove the checks from the "write" boxes, which makes the file read-only
The steps above make the new wallpaper permanent; changing it in the future requires the restoration of write permissions to the "wallpaper" file first.
The tweaks made up to this point resulted in the transformation shown in the following three screenshots.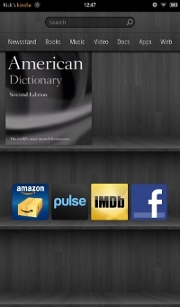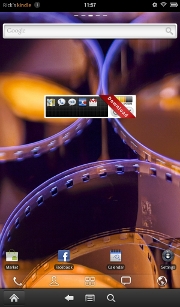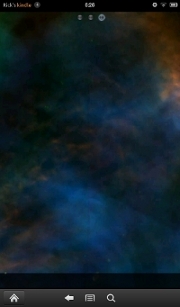 Left to right: initial homescreen; after replacement launcher; after customized wallpaper
(click images to enlarge)

Populating the homescreen with apps and folders
We're nearly done. I like organizing all my apps and bookmarks into folders on the primary homescreen, which makes it quicker and easier to perform a desired function without having to page through numerous homescreens. So, my next step was to install and configure the highly flexible Android Folder Organizer app, as I do on all my Android devices.
Then, I used Folder Organizer to organize the Android apps I had installed on the Kindle Fire into 14 category folders on the homescreen, plus two additional homescreen folders containing "all apps" and "all bookmarks." Incidentally, I make a point of using all-upper-case names for folders, and mixed-case names for app or bookmark links, so it's easy to tell the difference between folders and items (apps or bookmarks) on the homescreen.
This completed the look-and-feel makeover of my Kindle Fire. The screenshots below show the four stages of transformation, from initial bookshelf-style environment to its final, fully-customized configuration.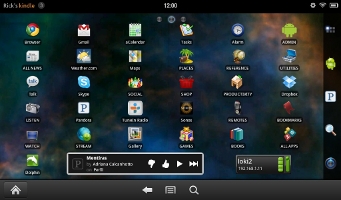 Morphing the Kindle Fire into a powerful Android tablet
(click images to enlarge)

You can see the contents of my Kindle FIre's homescreen folders in the sreenshots below.


















(click thumbnails to enlarge)

Connecting with Google's cloud apps
By now, I had a full suite of Google Android apps installed on the Kindle Fire, including Google's Mail, Calendar, Contacts, Maps, Drive (formerly Docs), Books, Music, and Movies. The screenshot below shows my Kindle Fire's homescreen Google Apps sub-folder, which I've positioned within both my Utilities and Productivity folders: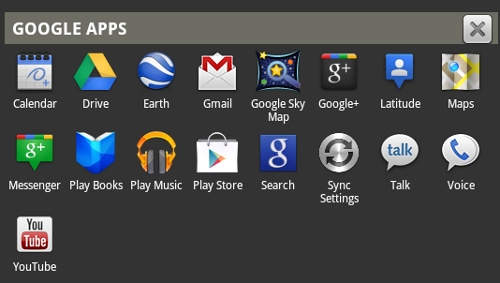 Homescreen Google Apps sub-folder
You can find screenshots of those apps running on the device in the complete rooted Kindle Fire screenshot tour, here.
The standard Google Calendar app didn't render very well on the Kindle Fire, however, so I hunted around for a better solution. After trying half-a-dozen alternatives, I eventually settled on the free aCalendar app. It does a fine job keeping in sync with Google's online Calendar services, and provides convenient and day, week, and month views, as seen in the screenshots below.







(click thumbnails to enlarge)

Complete rooted Kindle Fire screenshot tour
You can see lots more screenshots of the tweaking process, installed apps, and more in the comprehensive screenshot tour that accompanies this article. Use the index below to access screenshots by category, or jump directly to the complete rooted kindle Fire screenshot tour page. But be sure to return here for the remainder of this article, which includes a summary of the pros and cons of DeviceGuru's rooted Kindle Fire, along with some general conclusions.
Rooted Kindle Fire screenshot tour index…
Summing it up
Clearly, with a bit of effort it's possible to transform the Kindle Fire into a decent general-purpose Android tablet that's usable for both entertainment and more serious activities. On the other hand, also has a few significant limitations. The list below summarizes the pros and cons of my tweaked Kindle Fire relative to several typical 7-inch Android tablets.
Pros…
Sub-$200 pricing, with refurbs currently running $170
Bright, crisp, high resolution (1024 x 600 px) capacitive touchscreen
Compact and light, though not the thinnest or lightest
Easy USB data transfer without requiring special apps
Apps can be purchased from either Google's or Amazon's app markets
Cons…
No built-in mic or line input, so you can't make skype voice calls or record voice memos
Lacks a built-in camera, so you can't take photos or scan documents
No bluetooth wireless, so you can't use an external BT keyboard
Lacks the convenience of a physical volume control
No microSD expansion
No 3G/4G options
In conclusion, the Kindle Fire, as modified in this article, is certainly quite usable for tasks such as web browsing, email, instant messaging, calendar and ToDo-list access, and reading or editing MS Office-compatible documents — in addition to reading ebooks and enjoying multimedia content. But unless you've got tiny fingers (or a great deal of dexterity), it suffers from a problem that plagues all 7-inch tablets: it's hard to type efficiently on small onscreen keyboards; and with the Kindle Fire you can't remedy that problem with a Bluetooth keyboard.

Alternatively, if you can manage a slightly larger budget, you might want to consider Samsung's new Galaxy Tab 2 7.0 (pictured on the right; click to enlarge), which is now available for $249. To learn more about that exciting new low-cost Android tablet, read this site's in-depth Galaxy Tab 2 7.0 review.
Still, with discounted refurbs available from Amazon, the Kindle Fire's got some serious potential. Plus, it's a fun project converting it into a reasonably capable general-purpose Android tablet. (Note: please keep in mind the warning above regarding the risk's associated with rooting!)

For those interested in rooting a Kindle Fire, here's a list of articles, forum posts, and other references that might be helpful:
For anything and everything else, search on Google!