Last updated Feb 4, 2012 — 144424 views

[Updated Jan 27, 2013] — This post provides tips and tricks for getting the most from your Boxee Box. Things like streaming via AirPlay to your Boxee Box, playing videos and music files from Windows and UPnP network shares, building better bookmarks, adding the free Navi-X online multimedia aggregator, using your Boxee Box as network-attached-storage (NAS), and more.


The D-Link Boxee Box has been discontinued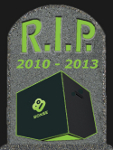 When Boxee announced its new Boxee TV product in October of 2012, it also stated that the original Boxee Box, which had already ceased being manufactured, would soon transition into "maintenance mode." Additionally, the company promised one last firmware update, which would "update the Flash player and fix some key bugs." Additional information is available in DeviceGuru's coverage:
R.I.P. Boxee Box: 2010-2013
Here's what's in our bag of Boxee Box tips and tricks at the moment. Click each title to read more about the particular tip or trick…

For more information on the Boxee Box, including news, reviews, tips, and more, check out the related posts below.